Leather skirt is one of the essential everyone women should have in their wardrobe. Apart from the leather skirt you will need some great fashion ideas as well to make sure you are making the most out them.
The first thing which you should do is choose a great leather skirt which suits your personal style and goes well with occasions.
There are different types of lengths and styles from which you can choose as per your preferences. The style of your leather skirt can also vary depending on occasions.
In case you are going on a business occasion you should choose leather skirt that is at your knee length or longer and add some stockings.
Color

                                                BUY THIS LOOK
There are many people who tend to believe that leather skirts are available in colors like black and brown which is not completely true because there are other colors as well. Black is an easy color which can be styled with ease as compared to other colors. There are different colors which and you should try to experiment with different colors and choose the one that goes well you.
Design
There are different leather skirt styles like pencil, pleated and circle as well. Apart from this there are waist options like high and low. If you are going with a midi leather skirt, try going with a pencil style. If you are someone who likes short skirts, then go with a pleated style. In case you are going with midi length, then go with something which is lightweight.
Tops to pair with leather skirt
When you are going with a leather skirt, then first choose a style for your outfits. If you are going with a pencil skirt, then try pairing it with a loosely fitted top. A pleated skirt will go well with a form fitted top. When you are going with a leather skirt try avoiding denim jackets.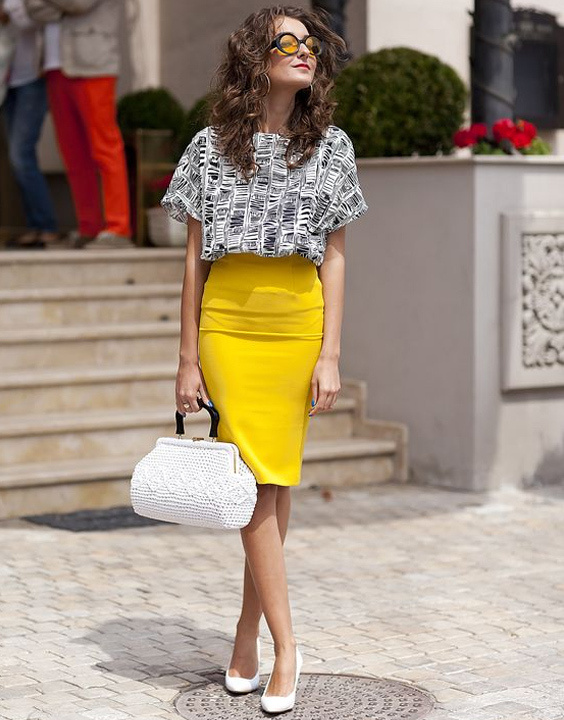 Pair different colored tops along side your leather skirt to make sure you are going with the colors that goes well.
Pairing tops as per the occasions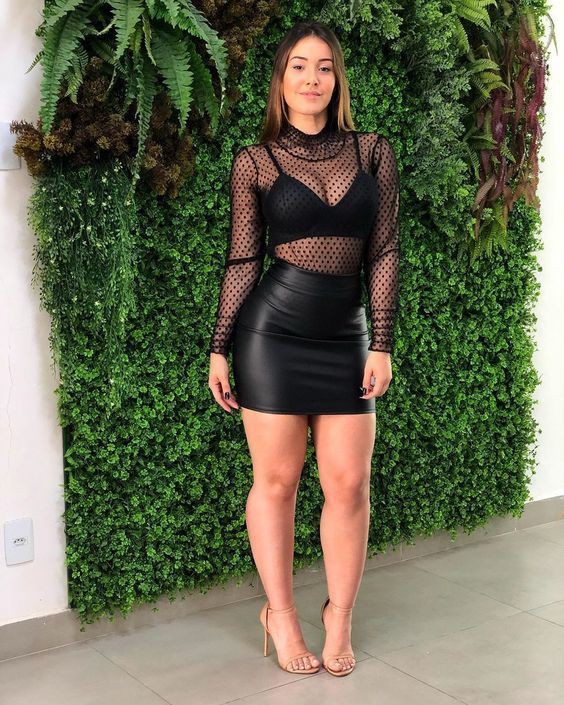 If you are going for parties or clubbing, then make an outfit with a black skirt along with a floral tee.
For formal occasions or office wear, you should try going with something simple. Start things off with a knee length leather skirt and add some simple accessories. Apart from this you should add a modest top and layer it with a blazer which comes with a single button for fastening.
You can also pair a raincoat and jumper during winters or rainy season. For summer season you can also go with lightweight top.  
Shoe options with leather pencil skirt
The shoes which you are going with depends on the type of occasions you are going to. Matching the color is something which we can look. In case you are planning to wear knee length leather boot, then go with something that suits you well.  

In case you are planning or a causal occasions, then go with some flats.
If you are someone who wants a feminine look, then you can go with something with heels which goes well with during the summers.
If you are planning to go out for a causal evening, then going with some sneakers will be fine.  
 For any formal occasions you should stay away from any platform shoes. You can go with some pumps, boots, and toe flats as well. For plus-size women you can pair some nude shoes.
During the winter season you can wear some footwears like boots and add some socks as well that goes well for the winters.
Making an outfit for your leather pencil skirt

                                              BUY THIS LOOK
Leather pencil skirts are pretty amazing and attractive piece of fashion that comes with great versatility that allows you to wear them on different occasions.
For any formal occasion you can wear your leather pencil skirt which is below your knees. Along with this you can wear a top that does not reveals too much of skin. You can wear an untucked top with a midi pencil leather skirt. If needed you can also wear it with a blazer or jacket.
The shoes do depend on the occasions you are planning to go. You can try going with some knee length boots