Whenever we talk about fur the first thing which comes to our mind is glamourous outfit with great elegance. There is no doubt that fur is linked with luxury and attractiveness. You can add fur to a pretty basic attire and can make it look amazing and out of the crowd.
If you are planning to go out with your friends on a chilly winter night, then going with a fur leather jacket will be a great idea. There are different ways you can accessories your attire with fur without looking like you are trying too much. There are options like fur coats, hats, fur leather jackets, etc.
Here are different ways you can add fur to your attire:
INVEST IN A FAUX FUR COAT

                                                     BUY THIS LOOK
A short fur coat is a great option to have in your outfit. There are different color options from which you can choose like black, grey, brown and other neutral shades. You can pair them with some leather pants or leggings which helps in getting that street look. Jeans are still in option if you want to pair them instead of leggings or pants. Underneath your fur coat you can go with some shirts and to finish off you look you can go with black heels. If needed you can also go with an all-black attire.
There are different length options in fur coat and going with a long coat will be a great investment. They are versatile and you can wear them to different occasions including work. You can make an attire by pairing a printed or plain top and layer it off with your long fur coat alongside a skirt. You can finish off your attire by pairing a small handbag and some black heels.
FAUX FUR BOMBER JACKETS

                                               BUY THIS LOOK
A bright faux fur bomber jacket is another great option which you can try. To make an attire you can start things off with some beanie hat on top and underneath your bomber jacket you can go with some classic white or black tee. For your bottoms you have an option to go with black jeans or leggings. To finish off your attire you can go with some sneakers with a funky feel. In case you feel like adding some accessories you can go with a cross body bag. There are options to make your attire take a goth turn which you can do by adding an attractive leather skirt along with some black chunky shoes.  
FUR SCARVES

If you are preparing a wardrobe for winter, then not adding a fur scarf will be a great mistake because it is a must have. You can use fur scarves as a great accessory for your winter attire. There are different types of style options for your fur scarf from which you can choose the best one as per your style and preferences. Another great thing about fur scarves is you do not have to try too hard to pair them with different attires.
ACCESSORIZING WITH FUR CLUTCHES!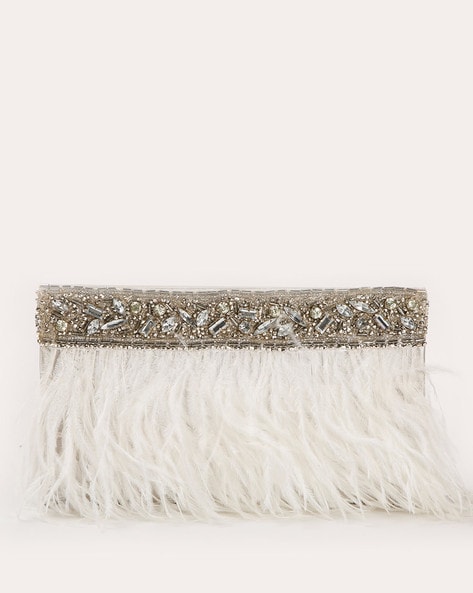 If you want to enhance your attire within a few seconds, then going with a fur clutch will be a great option for you. You can try going with a monochromatic attire which works well to add a fur clutch. For a monochromatic look you can start things off with some knee length white colored dress along with a white tee. Finish off your attire with some high heels.
FUNKY FUR SLIDES
Fur slides are in the trend these das which initially started as a basic item. Fur slides are mostly used for indoor and as a casual footwear, but we can still see some celebs and models pulling them off in other ways.  
You can pair your fur slides with some casual dresses during the day. These are great footwear when you are planning some casual occasion like relaxing on the weekend with your friends.  This might feel and look a bit weird in the initial days but as the time goes on you will feel the difference and worth.
FAUX FUR HAT

Faux fur hat is another accessory which you should have in your winter wardrobe. Cold winter days or night tend to make you lazy which can make getting up and dressing a bit difficult. When you do not feel like putting efforts into dressing up you can try going with a simple coat along with boots and add your faux fur hat as the finishing touch.  A black fur hat will be a great investment which you can use to add that minimal and effortless feel to your attire.