If you are someone who is looking for outfit ideas for your leather skirts, then we have different ideas from which you can choose the best as per your style and preferences. Leather as a fabric comes with great level for style and versatility and when it is used to make skirts, it just elevates the style you will receive. Leather skirts are great to have an effortless and stylish look. Leather skirts are versatile enough to be worn in almost every season. Color options for leather skirts are limited but there are different tops which can help in balancing the outfit.
For leather skirt outfits you can take inspiration from different celebrities and fashion influencers. There are different types of skirt which you can choose from like mini skirt, full skirt, mid-length skirt, pencil skirt, etc. Leather skirt is an essential for your wardrobe because of the features it comes with ranging from style to practical. Apart from this leather skirts will suit well on any body type.
Pairing leather skirts in a trendy style
Leather skirt is a great option for your wardrobe and comes in different types of shapes and sizes. In terms of color you can opt for options like brown, black, maroon, etc.
Here are some tips which you can try with your leather skirts:
Whenever you are buying leather skirts make sure you are considering colors like black and brown because of the styling options it has.

There are different types of finish from which you can choose ranging from shinny to matte. For a styling you can add a blouse with dazzling.
If you are looking for some modesty, try going with a skirt which is lengthy and add a colorful blouse. If you want to add some fun to your leather skirt, try going with some fringes.
Leather skirts are versatile enough to be worn in summers as well along with some tees.
If you are looking to iron your leather skirt, try keeping a cotton cloth over it to make sure it is not affecting it.
Faux Leather Skirt

                                                     BUY THIS LOOK
Faux leather skirt will be loved by people of every age and if you are one of them then try wearing with a causal style. You can pair your leather skirts with a denim shirt along with a cap which goes well for a relaxing weekend.
Bold Color Skirt
Colors like brown and black are pretty popular but there are other colors options as well from which you can choose from. You have options like blue, yellow, red, etc. which can help in getting that shine. Balance out your attire with the help of a neutral colored top like a blouse.
Printed Leather Skirt

Whenever you think of leather skirt the first image which comes to your mind is a natural leather colored skirt, but it also comes with great level of versatility as well. You can also add an animal printed dress which goes well with a leather skirt.  
All Black Outfit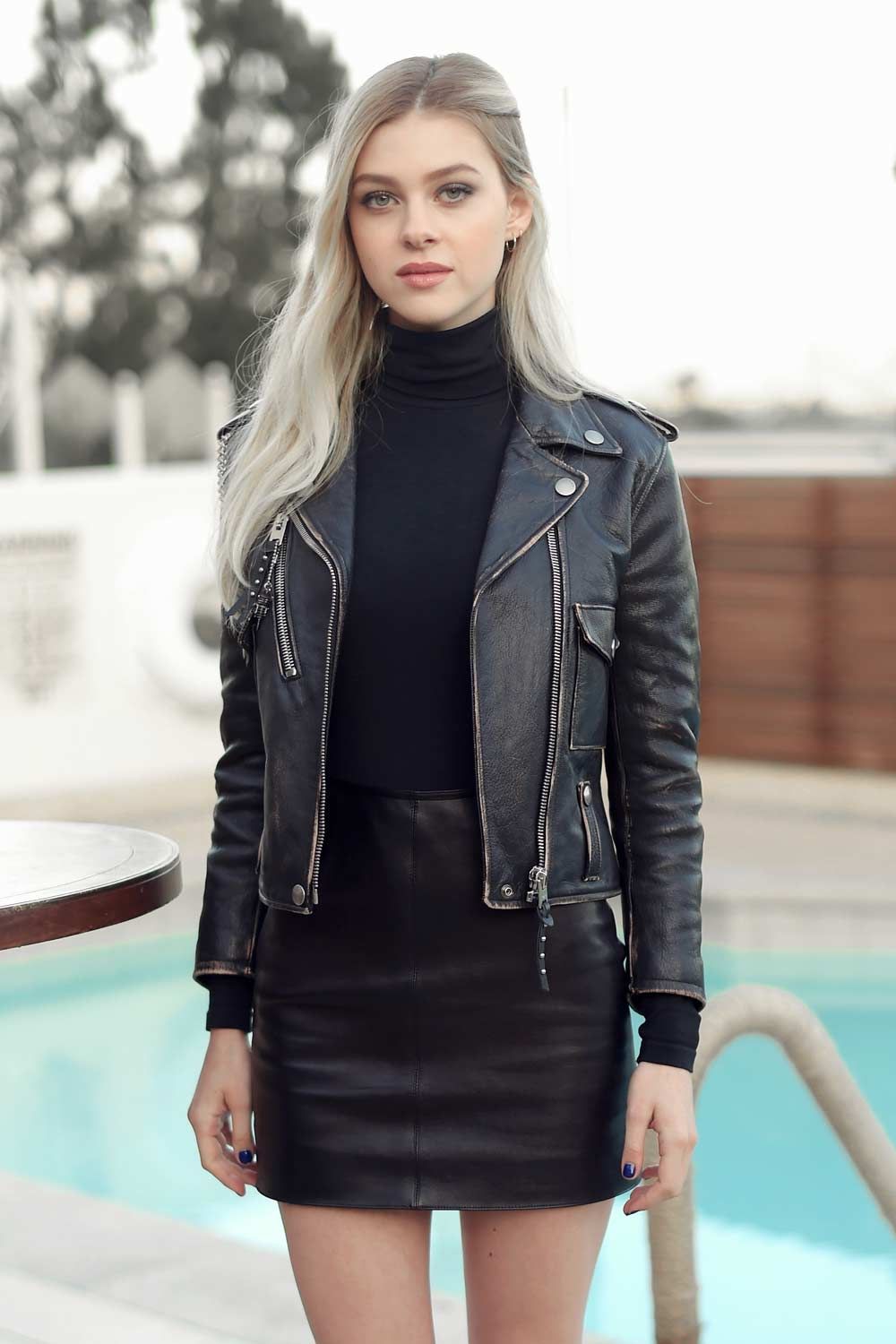 All black is a fashionable option which is one of the easiest styling option which you can go for. If you want to enhance your style for any event, then going with an all-leather outfit will be a great plan.
Start thing off by pairing your black leather skirt with a classic black leather top and to finish off your look a red lipstick will be fine.
Hot Red Look
Red is another color option that you should consider getting a bold look. Start this bold look with a red-colored leather skirt and pair them with a patterned top. If needed you can also add a stocking which works well for a movie night.
For a pencil leather skirt, you can go with brown color and pair it with a fitted top in cream color. You can also add some heels and other accessories like necklace and bracelets.
Street Style

There are different ways you can get your leather skirts and funky is one of them. You can wear some funky leather skirts along with a similar styled top which is best for a street look.
The Fashionista Style
If you want to try something new, then going with a mini leather skirt will be one of the best things. You can pair your mini leather skirt with an off shoulder to have a bold and attractive look.