Fashion is something which never stays constant and keeps on evolving irrespective of the era. The men's fashion industry is also growing a lot in some recent years as men are paying more attention on their appearance. There are new trends and styles which you can experiment with to find the best type as per your personality and body.
Bright colors

There are a lot of young people who got the attention of bright colors and did enjoyed wearing it. There is no doubt nobody loves bright colors but very less can actually pull it off. If you're fond of bright colors then you should try them out as there are different apparels from sneakers to jackets and whatever you can think off. Bright colors will be a great addition to your wardrobe and you should own some if you haven't.
Asymmetrical Styles

Asymmetrical attires are something which is getting lot of attention as they are something new in men's fashion world which does looks fashionable. Trying these styles will also refresh you and your personality as well.
Gothic Look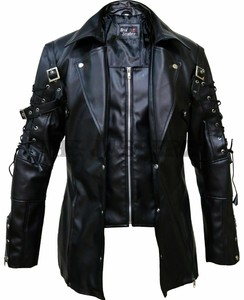 Gothic style has inspired a lot of fashion aficionados and is continuing to do it. If you don't want to get too serious with this style but still wants to try it out then going with a black outfit is a great way of doing it and try adding black leather jacket to your outfit. If you're really into gothic style then get a Mohawk styled cut and you're ready to be a gothic style icon of your area.
Mix and Match
There is nothing wrong with combining different styles and designs as it will help in making a different and unique look which says a lot about your personality. There are some new styles like Pinstripes, checkered, retro styled polka dots, etc. which are worth trying. If you're not into the combining business then you can always go with simple denim jeans with some patterned top. If you're looking for some youth look then you can go with leather pants paired with a funky top which will result in very youthful attire.
Semi Formals

These are some comfortable and modern styles which a lot of people are picking. You can make this attire by pairing some khaki pants with white linen shirt which will make you attractive at your office. You can also add a leather blazer on your already attractive semi-formal attire.