EVERYTHING ABOUT LEATHER
1. Leather Jacket Fitting
A leather jacket is something which you should buy as it will be a great addition to your wardrobe but if your fit game is not on point then you won't get the most out of it. If the fit is good then it won't affect your basic movement and will make you feel and look better.
There are different sizes available in the retail jackets to make sure that every person gets the perfect leather jacket.
Things you should consider while choosing your leather jacket:
Shoulders: if the shoulder length of your jacket is not perfect then it will look like you have borrowed it from someone therefore to get the most out of your leather jacket.


Sleeve Length: if you're buying a motorcycle leather jacket then the length of your sleeves will be longer than the usual leather jacket because of functional reasons like protecting your wrist when you are riding your bike.

Arm Holes: Your leather jacket will have high cut armholes if the quality of your leather jacket is high which will give your arms a lot of area for basic movements.


Jacket Length: the length of your leather jacket doesn't need to be big as it is worn short and does give you a really modern look. The length of your leather jacket should not end near the middle of your trouser pocket. the perfect length of your leather jacket should be at your waist but it can be longer if it is a trench coat. If you're wearing a shirt then make sure that you are tucking it in your bottoms for a better look.
The reason why you should stay away from boxy cuts and too tight fits:
the first reason is that they won't be comfortable enough to be worn every day and as you are going to wear it for a very long time then comfort should a top priority.

2. Material of your Leather Jacket
the hide used in making a leather jacket plays a vital role as to how your leather jacket is going to look, feel, and perform totally depends on that. the texture of your leather jacket also depends on the skin used in making it.

different types of hides:
Horsehide: horsehide is the toughest hide a leather jacket can ever be made of.
Cowhide: cowhide is also a strong hide and if you are looking for a motorcycle jacket then it is a good material to go for.


Calfskin: this hide is softer than cowhide and might feel a bit weird and broken initially but you will get used to it.
Goatskin: soft and protective and is water-resistant as well.

Different types of grain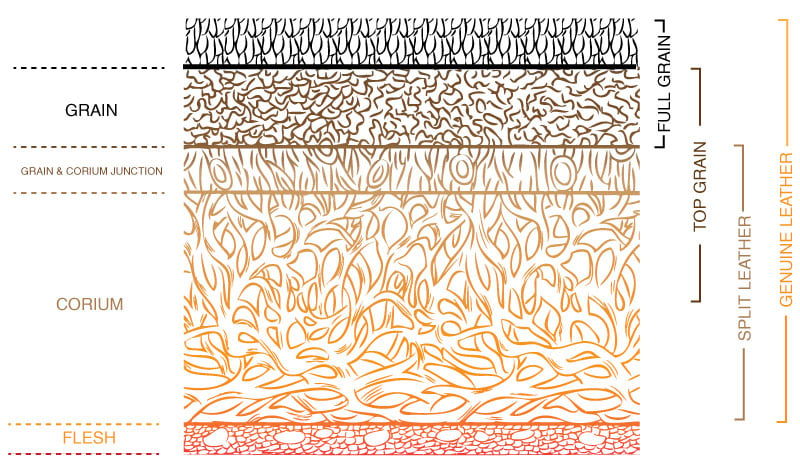 Full Grain: this is considered the best type of grain and is the most original skin state you can get.
Top Grain: this grain is either the upper or lower layer of the hide and to make it more flexible the bottom is shaved.
Split Grain: this is later which is comes when the top grain is removed and is mostly used in making suede jackets.
Corrected Grain: this is the grain that has gone through some correcting process to remove scars and scratches from the hide.

Tanning & Finish


there are two different types of the tanning process, chrome and vegetable tanning. in the chrome tanning process, chromium sulfate is used to make colored soft leather-like Nappa leather but it does have some effect on nature which is not good.
Vegetable tanning is done by using natural items like bark or other plant items the end product is high in quality but is a bit expensive as well.

Hardware
the hardware should not be made from any low-quality material as you are going to use it for many coming years.

Lining & Stitching
the lining and stitching is also an important thing which you should consider before buying your leather jacket as if the lining is ripped then repairing is not an easy job to do. the lining on the leather jacket should not be flimsy as it is a sign of a cheap leather jacket. you should also check the lining on the pockets. Make sure that you are checking the stitching on both inner and outer seams. The stitching should be close and dense and should be done with a polyester thread.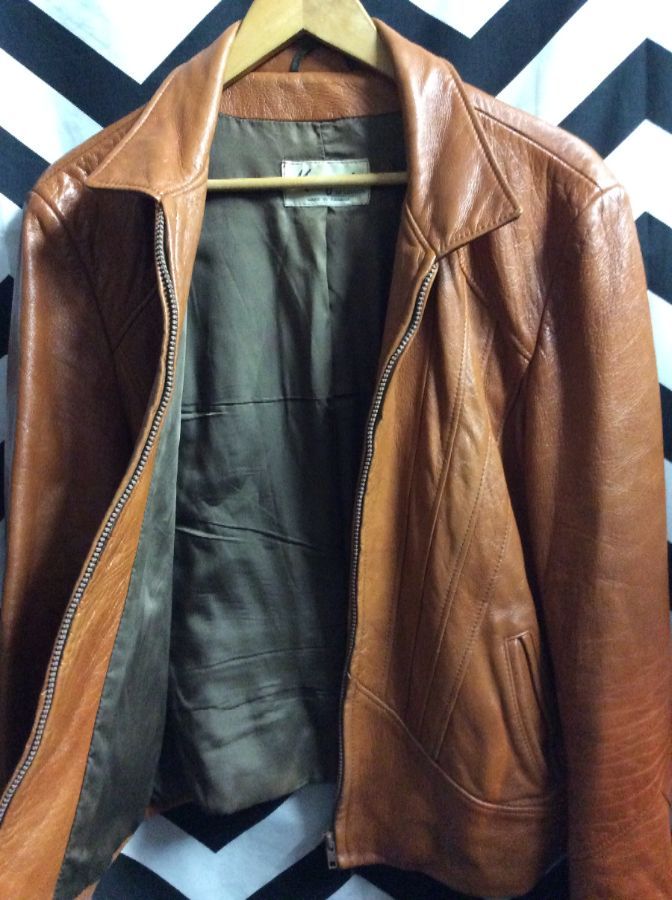 #3 Function Leather Jacket provides
Warmth
a leather jacket should be able to give enough warmth to keep you comfortable and safe from any winter winds. you can choose a leather jacket which has woolen lining and is made from cowhide will be a great choice for winters.

Protection
If your jacket is made from leather then it will provide some sort of protection and will be better than any other jacket in your wardrobe. the jacket you are going with should have some weight to it and if it has then it is suitable for colder months.

Fashion
Leather jackets are versatile and you can pair it with different outfits and on different occasions as well.

4. Styles in Leather Jacket

leather jackets are something which has been in fashion for a long time and will stay here for many coming years and decades.
there are different types of styles available in a leather jacket here are a few:
Double Rider
this is a classic American which had asymmetrical fastenings, spreading lapels, and some metal snaps as well.
Moto Racer
moto racer leather jacket can be seen as the most dressed leather jacket with a simple design. There are some leather jackets which you will see in bright colors. these jackets have a different name as well, known as a cafe racer jacket.

Bomber
this jacket was initially made for the Crew of airforce but has gained a lot of attention in the fashion world as well. you can pair this jacket with different casual attires.