If you feel that the work of leather jacket is over right after winters, then you are wrong because there is still time for you to pull them off. You will need your leather jacket during the spring season because it will consist of different climatic issues like strong winds, and chilly temperature. The temperature is something which you should not because you have got your leather jacket with you. there are different types of leather from which you can choose the best one as per your style and preferences.
Moto Black

                                                             BUY THIS
This is a classic styled leather jacket which you can have if you are looking to achieve a classic. Moto leather jacket are great if you are looking to achieve that classic look from the 80s without even doing anything. If you are looking for something which will last for a long time, then you can opt for a black colored moto leather jacket.
Studded

If you are someone who is more on the rebel side and is looking to stand out from the crowd then the studded leather jacket is the best option for you as it is bold and has some uniqueness in it. it also has that don't mess with me vibes, but you can make it more subtle by pairing it with some feminine apparels like a floral skirt.
Color

If you want your leather jacket on a different level, then you should look for a different color. The spring is right at the corner and there are some great pastels which you can choose. You can also opt for some jewel tones as they worked great for your fall season. There are some flashy colors as well like neon which you can opt for if you have enough guts.
Fringe

                                                   BUY THIS
If you have that sassy vibe then going for fringes is something you can do. Fringes and leather jackets have a great combination and are working well from an awfully long time. There are different types of fringes which you can get like fitted, cropped, and even oversized from which you can choose the best one as per your personality.
Peplum

                                                    BUY THIS
If you are looking to flex your curves or wants to have a curvy appearance, then going with a peplum leather jacket is a great option. These leather jackets are on the feminine side and they do help in highlighting your body. You can wear your peplum leather jacket to different occasions as they are versatile in nature.
Cropped
If you don't want too much of leather than cropped leather jacket is the best option for you as it doesn't have too much of leather and will still give you an amazing style with leather. cropped leather jacket is more on the casual side and works best for summer outfits and occasions.
Beige
Beige is something which has got a lot of attention in the clothing and make up section. Beige leather jacket has a very subtle yet unique stye. If you want to go all out then you can opt for an all nude or beige attire.
Oversized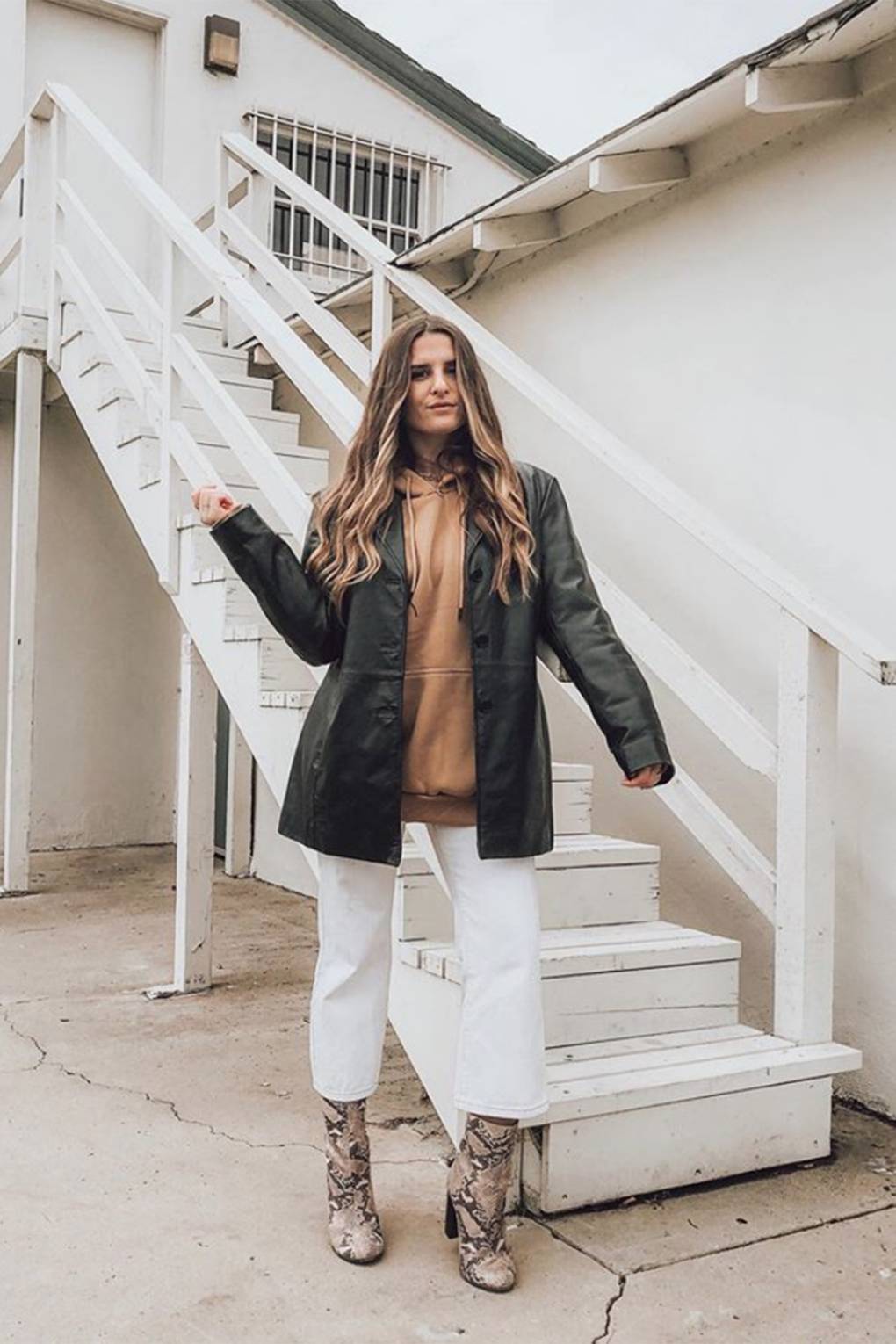 If you are someone who is into classic and oversized attires, then going with a classic oversized leather will be a great option. Having an oversized looking attire is something you should have in your wardrobe for almost every season.
Laced up
If you are some on the kinked side, then there are laced leather jackets which can help you in getting that nice and naughty vibe. You can find laced leather jacket in different styles like laces on the back, sleeves, etc.