For whatever explanation, loafers are perceived as being "simple appearing." We are delighted to inform everyone that this is in no way the case. Loafers are fashionable shoes that may be worn with both informal and formal attire.
The purpose of loafers was to create a shoe that was simple to put on and take off. You may wear this classy-looking shoe anyplace. The footwear looks wonderful with practically any outfit and is made of several various materials, including leather and suede. Comfy shoes for business, travel, and sometimes even daily wear are loafers.
Different types of loafers to have
Dress loafers for men are a classic type of footwear. There exists a style of loafer for everyone, which is the thing about them. Certain loafers exude a more refined air, while others are more appropriate for casual attire. You must add one of the six varieties of loafers listed below to your collection.
Penny Loafer 

Now let us initiate with The Penny, a traditional loafer design. It may serve as both a formal shoe and a casual footwear and is stylish. The overall appearance corresponds to a straightforward loafer. So over top of footwear is a strap with something like a slot in the form of a gem (penny slot). The title of the footwear comes from all of this. The penny is a fantastic option for informal or semi-formal occasions.
Tassel Loafer 

The tassel loafer is indeed a striking design that is a little more embellished than the classic loafer. This loafer looks stylish, making it a great option for professional and semi-formal attire. The loafer's building fabric also determines the style of the footwear. Suede loafers are a terrific choice for loafers to pair with denim, whereas leather ones with tassels provide a more refined style.
Boat Loafer
Undoubtedly not everyone enjoys The Boat Loafer. It is challenging to look good in these shoes. With lace, extra leather bands, and rubberized outsoles, it is really busy. This loafer type also has the drawback of looking terrible with socks. It is totally unacceptable. Boat loafers have the advantage of being quite elegant with shorts and, not to mention, being a really comfy footwear to use.
The Horse bit Loafer
Without some equipment, what is a loafer? With something like a golden clasp that rests on pinnacle of the footwear, the horse bit loafer rises just above competition. This loafer design is often used. Its stylish yet classy appearance works perfectly with both regular and professional attire.
Driving Loafer 
The Driving Loafer is the ideal shoe if you are looking for a set of easygoing loafers that you may pair with denim. This footwear is essential for casual attire thanks to its grainy base and monochromatic laces. This laid-back look goes perfectly with summertime and dress casual.
Slipper Loafer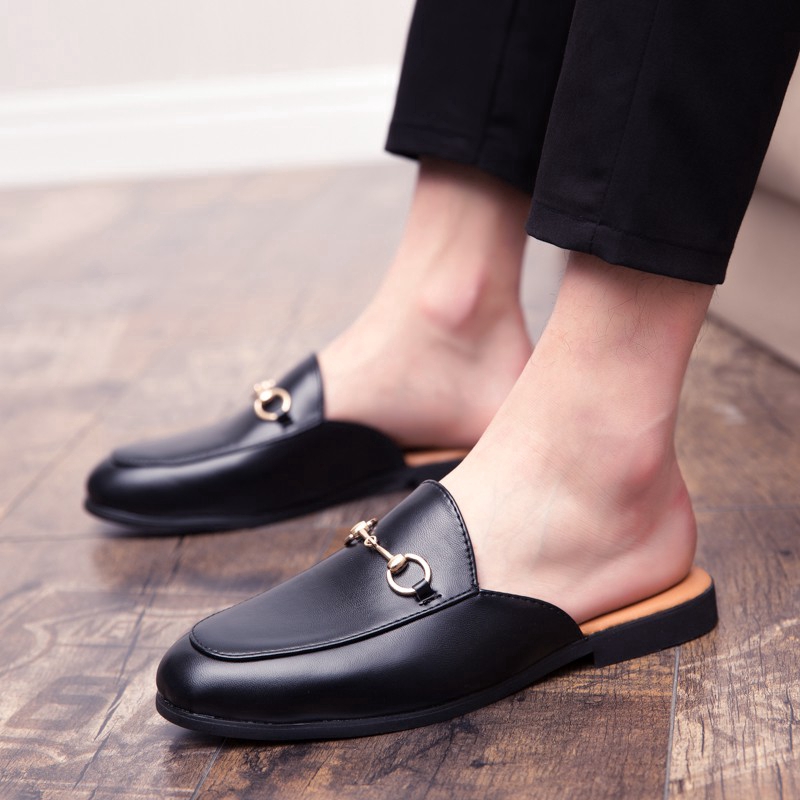 This loafer design provides business because it is free of any and all distracting extras. This design is already so streamlined; it does not require any ostentatious hardware or extra flair to stand out. The slipper's construction determines the outfit's mood. A word of advice: choose leather loafers if you intend to pair your suit with them. Suede is the material you wear if you want something more laid-back.
What to Combine With Shorts and Loafers
A fantastic method to combine high end fashion and informal attire is with loafers. It is time to look into shoe styling now that you are aware of the many shoe categories.
Loafers are a type of shoe that go well with virtually all types of attire. It adds elegance with its elegant design. The distinctive characteristics of each model add to the trendy aspect of these footwear. With a few simple tips and tactics, anyone can master how and where to pair loafers alongside jeans, shorts, and suits. But now, we are concentrating for loafers with shorts.
Tips for Styling Loafers with shorts
The loafer is an extremely adaptable footwear. Shorts and loafers together provide a relaxed appearance. Casual dress can refer to situations where daily clothing is appropriate. Or it might be smart-casual, such for lunches and garden events.
In conclusion, loafers with shorts make for a casual attire. Additionally, because shorts are made for warmer weather, loafers and shorts make the ideal summertime easygoing attire. Here are five recommendations for choosing loafers to wear with shorts.
Choose the correct type of loafer fabric
When you are looking something for the causal events, then suede will be a great option, whereas leather will be a better option for smart casual occasions.

Choosing the loafer style depending on your attire

If you are planning to go with a casual outfit, then loafers like driving and penny will do a great job. Coming to the formal wear, then horse bit will be a great option.
Have a classy color coordination
If you are choosing some shorts, then make sure that you are sticking to the basic options like, beige, black, blue, and grey. These color options are very versatile in nature which you can further style with different types of shirts. Coming to the color options, then choosing loafers in shades of brown can do a great job because of the versatility it comes with.
Opt for correct type of shorts
If you are styling some casual shorts, then going with suede loafers will be a better option whereas for khaki shorts, leather loafers can do the job.
Buy Loafer Socks 
Having loafers socks is extremely important when you are going with loafers and do not want to ruin the appearance of your loafer look. Whenever you are out shopping for loafers, then make sure you buy a set of loafer socks as well.
Outfit inspirations with loafers and shorts
When worn simultaneously, loafers and shorts make for a lovely, sophisticated attire. The overall laid-back feel combined with the elegant shoe is certain to attract attention. Nevertheless, decorating them without making them appear garish might be difficult.
Blue shirt, shorts, with horse bit loafers 
An eye-catching blue shirt and a set of white shorts make the ideal brunch outfit. To contrast the hues, include a belt in a deep brown tone. Put on a set of brown horse bit loafers to finish the attire. Men's loafers look excellent with shorts when worn with this attire.

Checked shirts, shorts and tassel loafers
Shorts look wonderful when worn with something like a patterned shirt and relatively neutral shorts. This provides the ideal backdrop for styling loafers. Notice how the footwear take center stage when you add a set of tassel loafers to the attire.
Light cream shirt paired with shorts and espadrille loafers
Among the nicest footwear for guys to wear on a daily basis are certainly espadrille loafers. These are versatile, fashionable, and comfy. An off-white shirt and a set of avocado green cargo shorts make for a laid-back appearance. To finish the look, add a pair of grey loafers.
Combination of linen shirt, shorts, and penny loafers
Shorts with penny loafers are a great combination. Put on a set of patterned shorts and tucked in a white linen shirt. To round off this attention worthy attire, add rich brown penny loafers.
Green tees, beige shorts, and brown boat loafers
Men's boat loafer footwear go great with easygoing attire. A white tee and a set of beige shorts make for a simple stylish outfit. To complete the outfit, include a darker brown belt as well as a pair of brown boat shoes.
Conclusion 
The shoe style known as loafers has a high-end appearance. The shoe is a must-have because of its details and design. Despite their ability to be used with both professional and informal wear, loafers look their finest if worn with shorts.
Loafers come in a variety of designs that make them wearable throughout the year. Overall, it is a footwear that each and every man ought to have. We believe that this fashion suggestion motivates you to wear loafers, particularly alongside shorts.