Regarding skirts, women have a wide range of options. The best thing about such options is that nearly every one of them is extremely unique and serves a different function. Although leather A-line skirts seem glitzy and seductive, midi skirts are cozy and pleasant. There exists a skirt available that is appropriate for any situation.
However, the denim skirt is the most unappreciated type of skirt. Throughout the latter half of the 20th century and throughout the early decade of the 21st, they enjoyed a fair amount of popularity. After then, they lost favor and were replaced by alternatives such as the leather skirt. However, such jean short skirts with something like a pencil skirt design are now again fashionable. In reality, denim skirts are gradually becoming more trendy, and now is your time to start wearing them before everyone else.
Things to style with denim skirts
Before we get into different methods you can consider for styling blue denim skirts, first we should look at fashion pieces that you can style these skirts with. One thing which you should remember here is that denim shirts are pretty versatile mainly because of the use of denim or jean. You can style them with different types of tops, outerwear, skirts, footwear, etc.
Therefore, you do not require any special apparel if all you desire is a stylish skirt in your wardrobe. On the contrary side, when you're keen on mastering jean skirt ensembles, here are the things you'll require.
Hoodies

Women wearing hoodies is the epitome of adorable. Therefore, you must have a number of plush hoodies in your wardrobe if you want to create cute looks with a jean skirt. You are free to select any hue you like. However, if being fashionable is among your aims, then beige, soft lavender, peachy pink, and pale blue are suggested. Another choice is to use large hoodies and flawlessly copy the VSCO girl look.
Colorful Flannel
Flannels are amazing piece of fashion which is yet another piece of fashion which you can go with your denim skirts. When we talk about flannels, then they are a bit different and come with that bold and strong nature. You can simple purchase a red and maroon flannel as it is a very versatile option to have for styling with skirts as well. However, you can also go with some bright flannels and just wrap it on your waist to have a baddie denim skirt attire.
WHITE SHIRTS
Shirts and tees come in a wide variety of styles that go well with skirts. White shirts, meanwhile, have a distinctive position among all of these garments. Whenever wearing the current denim skirt, you will want to draw all eyes to the skirts, and these relatively simple shirts are indeed the perfect way to achieve this. Another justification for keeping white button-up shirts in your wardrobe is the effortlessly chic look you can attain with them.
Crop Tops

When the summer season is right on top, then making the most of your denim skirt should be a great priority. Start creating that summer outfit by going with some pretty crop tops and you are good to do. When it comes to crop tops, then choosing the color is really important, therefore go with something in the range of white, blue, red, and black. The design is the next thing to consider for crop tops and are mostly subjective. You can also try getting your hands on crop tops which come with different patterns, design, colors, etc. Apart from the combination of crop tops and denim skirts you should be taking a look at accessories like hand bags, shades, and even a hat will be a good option to achieve a street look.
Black
The purpose of this denim skirt attire is to draw attention to the skirt by enclosing it entirely in pure black. Such an outfit would look fantastic with a sky blue short denim skirt below a black tank top and a black blazer on over. However, the shoes are the crucial component which will create or ruin a simple jean skirt look. The finest footwear for this situation are big, shiny black boots since they provide the illusion that your legs are surrounding the skirt. Low-top sneakers that fit properly will not have the exact same impact.
Leather Jackets

Most fashionistas and industry professionals vouch for the effectiveness of layering. It is stated that donning outerwear may transform a decent outfit into a great one. The majority of the time, this really is accurate, but it also relies on the type of outerwear you wear. Nonetheless, there isn't any better choice than a winter leather jacket whether you're seeking for an item that will ensure the benefits of layering. 
The nicest thing about wearing a leather jacket with something like a denim skirt is that it looks great with just about any top you choose to wear underneath the jacket. Even just a simple black bomber jacket has the power to improve the look of your entire outfit. Additionally, the material contrast in between leather jacket and jean skirt gives your attires dimension without adding any additional work. 
Blazer
It's fun to look fashionable and sophisticated when wearing the same clothing. Sadly, the majority of adorable denim skirt attires are incompatible with attire appropriate for the workplace. But there is one item that makes this challenging look effortless: the blazer. Wearing a white jacket that fits a little loosely over a shiny color jeans skirt and a white t-shirt is a wonderful style that is uncommon.
Styling denim skirt
The totally obvious regarding how to dress a denim skirt has vanished as a result of their relative absence during the past ten years. The greatest technique to comprehend it at this point is to glance at a few illustrations of the top denim skirt attire available. Then, you can either draw inspiration from them to create attires that are more unique or you may copy these ideas one for one and have a killer denim skirt attire collection.
Swiftly amazing
The method of dressing for a jean skirt doesn't have to involve three or more components. Just by choosing the perfect top to go with your blue jean skirt, you may create a stunning outfit. But what characteristics define a good decision? The top must be sturdy by itself in this circumstance. Furthermore, it needs a distinctive mood, therefore basic tops in one colour are not acceptable. Instead, wear the skirt alongside tops that have eye-catching patterns, distinctive shapes, and vibrant colour combinations. An excellent illustration of one similar top is a crop top with fringes and a black and red flowery design.
Denim with Denim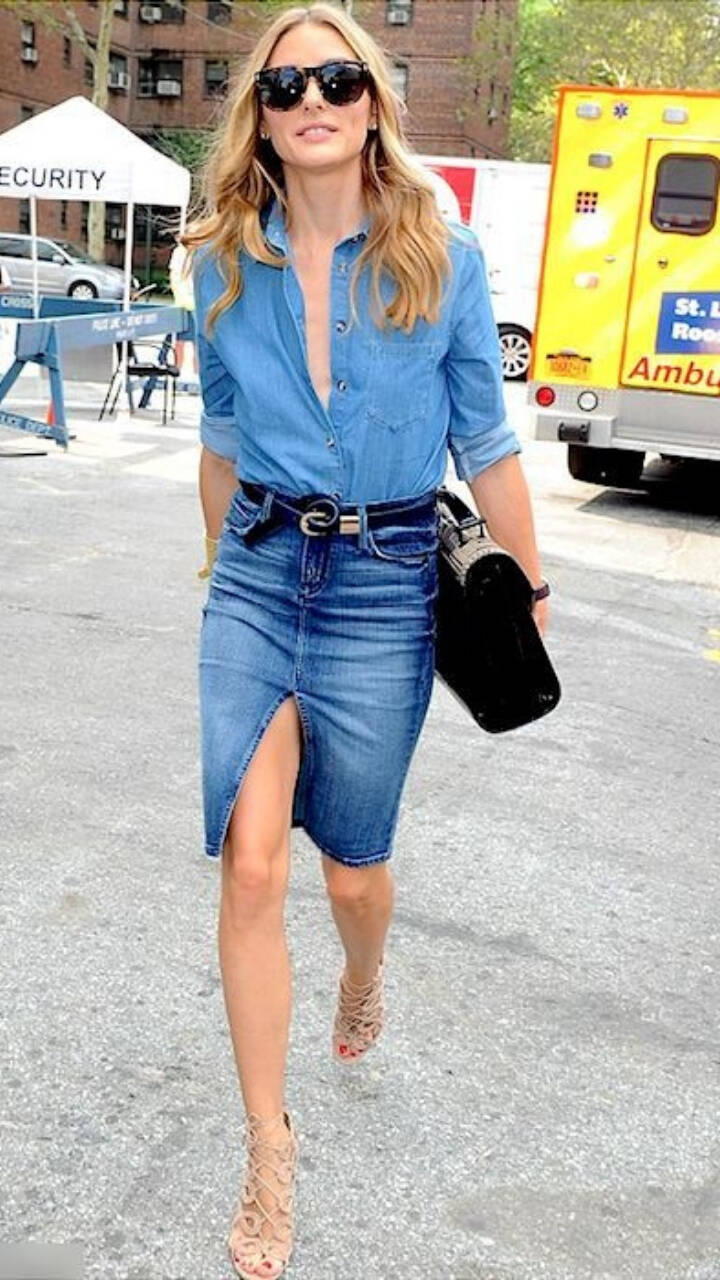 Denim is a rare exception to the rule when it comes to attire that are entirely made of the same material. So wearing a denim shirt over a denim skirt is not just acceptable but also attractive in and of itself. You get to choose the shade of the jackets and the skirt.
One approach is to dress similarly in both, much like a Canadian tuxedo. Just be sure to accessorize this monochromatic look with items in different colors. Here, a red handbag will look great. You can also add a tint or even intensity as an alternative. Black and grey are good options among the many tones of blue available in jean apparel. The results should really be stunning if you combine and coordinate these colors according to your personal sense of style.
In conclusion
The daily wardrobe of ladies must include skirts. However, the jean skirt, arguably one of the most spectacular styles of skirts, is still mostly unknown. But as it continues to gain popularity, jean skirts will soon be the skirt style to watch out for.
So take advantage of the opportunity to enter first. Stock your closet with items that go best with these skirts and create looks that reflect your own style. You will indeed be prepared to appear your finest in it when this type of skirt eventually becomes popular.