The year 2022 will see fast evolving fashion trends. Such as white athletic shoes, some trends are successful in cementing their place in history. Like shoulder pads, certain fashion styles enjoy a brief moment of fame before disappearing. (Geez! We definitely do not want that pattern to return.)
Athleisure attire is unquestionably the main trend in fashion this year. The must-have items this season include tracksuits, sweatpants, baggy shirts, jogger pants, and socks. It's one thing to fully embrace the athleisure movement. Knee-high socks, however, are the greatest choice if you want to experiment with fashion while still sporting your personal sense of fashion.
Knee-high socks were all the rage in the middle of the 1990s. They are now a terrific complement to your wardrobe. These socks are a clever way to add an athleisure motif to your everyday wardrobe without fully committing to the trend.
A casual ensemble with knee high socks is simultaneously playful, cute, sensual, informal, sporty, and edgy. Women of various ages can sport this look. Knee high socks may boost any ensemble. With this additional accessory, you can wear garments with a completely different attitude.
Knee High Socks: Everything You Need To Know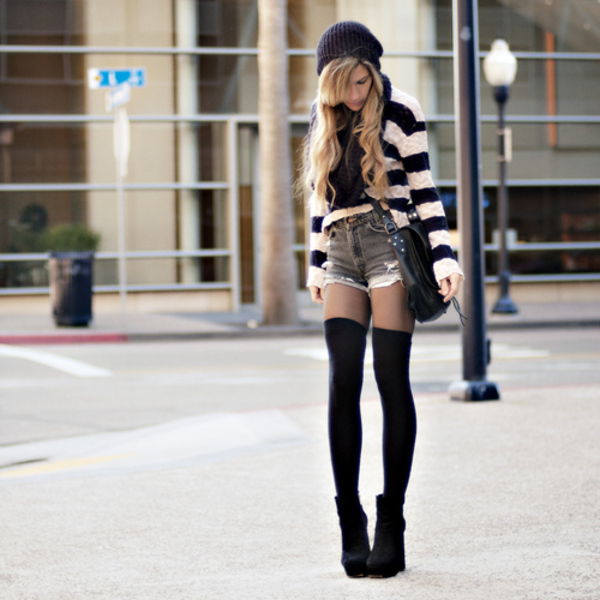 Let us just speak briefly regarding how knee high socks has developed into a really stylish style prior moving on to styling. The purpose of knee-high socks is to make the user comfortable and secure. Simple knee-high sock ensembles are simple to put together again and perform in.
Knee-high socks was becoming a fashion trend in the 1990s rather quickly. Yes, the movies are to blame, but after being embraced by mega pop stars, this trend grew exponentially.
Today, lengthy sock outfits can be seen worldwide. While they continue to govern the pop-culture world and have also become a key component of fashion week. Knee-high socks and glitzy shirts are everywhere in the front rows.
THE KNEE HIGH SOCK RULES
Knee high socks are a distinctive method to dress up a straightforward outfit in terms of fashion. You won't get far if you wear any old pair of knee-high socks with your clothes. To put together even a simple knee-high sock attire, you must first master the guidelines for wearing them.
Shorts or skirts actually look good if worn alongside knee-high socks. They go well with rompers and small dresses as well. When some skin can be seen through the layers of clothing, the socks appear attractive.
If you're wearing knee-high socks, refuse to wear open-toed shoes, pumps, or sandals. It undoes the stylish appearance and appears somewhat disorganized. Knee-high socks are stylish when worn with closed-toe shoes. You've been made aware.
Knee-high socks look best throughout the cold and autumn months. These can ensure that you are safe, comfortable, and fashionable. You do not want to be cold within month of December while wearing a miniskirt, do you?
Make absolutely sure your socks fit you correctly. Nothing is more annoying than a pair of uncomfortable socks. Your calves and ankles must be completely encircled by the shocks, giving your legs a seductive appearance.
Numerous Designs of Knee High Socks
There are many different designs, hues, patterns, and materials available for knee-high socks. There are countless combinations! In order for you to better understand which style of knee high socks is most appropriate for you, we have broken up the fundamentals in the appropriate manner.
Patterns 

People now understand that, in addition to their frequent availability in single block colors, knee high socks also exist in a range of patterns. A few of the various patterns include doodling, polka dots, striped, and zigzagged patterns. We think there really is nothing better than a good set of knee high socks. It's also charming to engage in styles featuring frills and ribbons.
Colors 
The basic palette is the first. The colours black, brown, beige, grey, and white are considered neutral. We prefer to refer to these hues as "Balancers." They don't detract from the outfit as a whole. These hues make knee-high socks look stylish, elegant, and classy. They are the ideal addition to enhance your look without adding much effort.
The vivid palette follows next. Those vibrant knee-high socks really know how to have a good time. We like to refer to these vivid colors as "The Stand outs" because they are bold options. A simple set of bright socks can totally change an otherwise relaxed knee high socks attire.
How To Style Knee High Socks 
Combination of solid white knee high socks with tennis shoes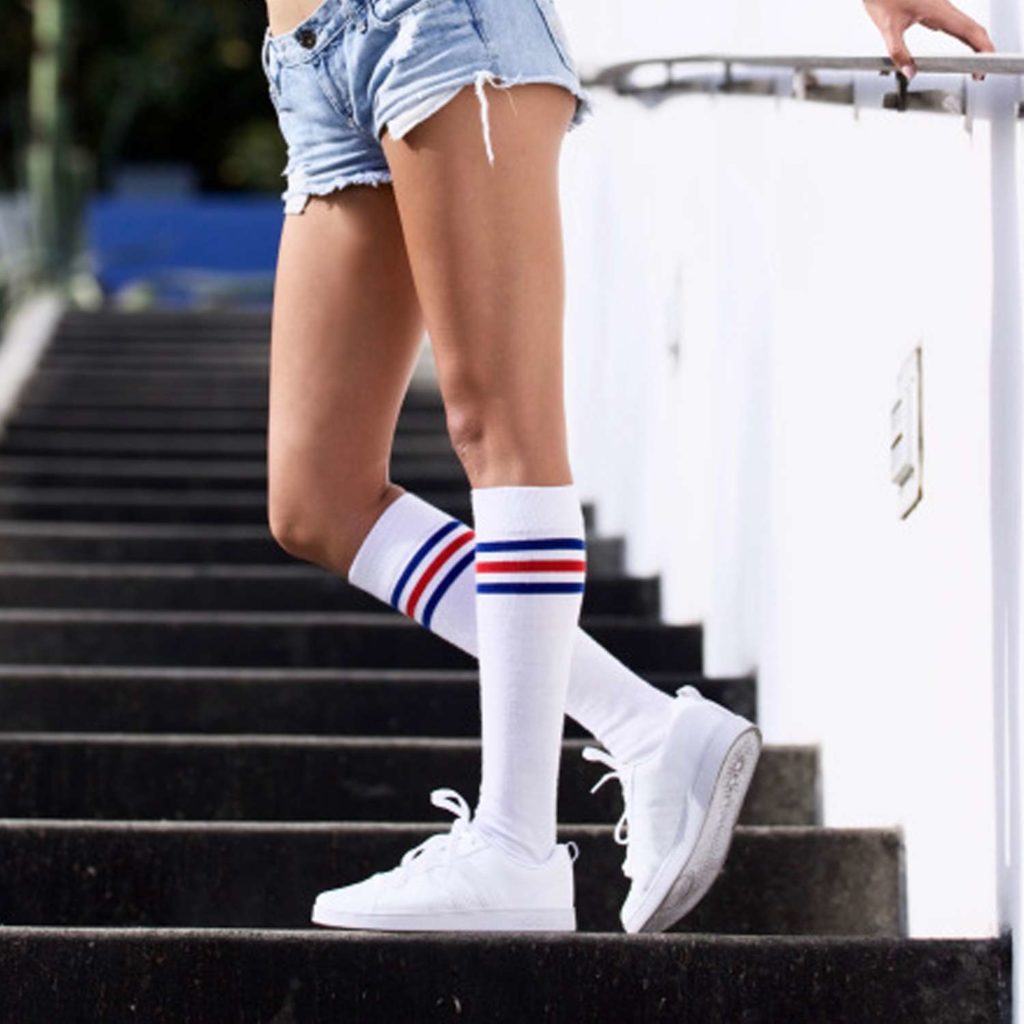 Are you the kind of girl who enjoys style along with athletics? We do, however, have the ideal attire for everyone. Wear white knee-high socks with just an oversize sports sweater. Make absolutely sure the socks you choose contain patterns which complement the jersey's hue. Your sporty-chic ensemble is complete when you add a tennis shoe to the mix.
The classic look with stripped knee high socks and joggers
Patterned knee high socks are the epitome of classic. A pleated skirt goes well with a lovely graphic top. Put on your favorite pair of sweatpants and a set of patterned knee-high socks. Being playful and creative is the key to this style. You simply must try out the look of knee-high socks with skirts. They put together a gorgeous but laid-back knee-high sock ensemble.
Another way to wear long red socks is to wear them with a pair of baggy jeans. Select trousers with a higher hem and finish the look with a pair of white boots. Add on a grey sweater and a lovely bag to finish this incredibly elegant and classic look.
The night outfit with sheer knee high socks and black heels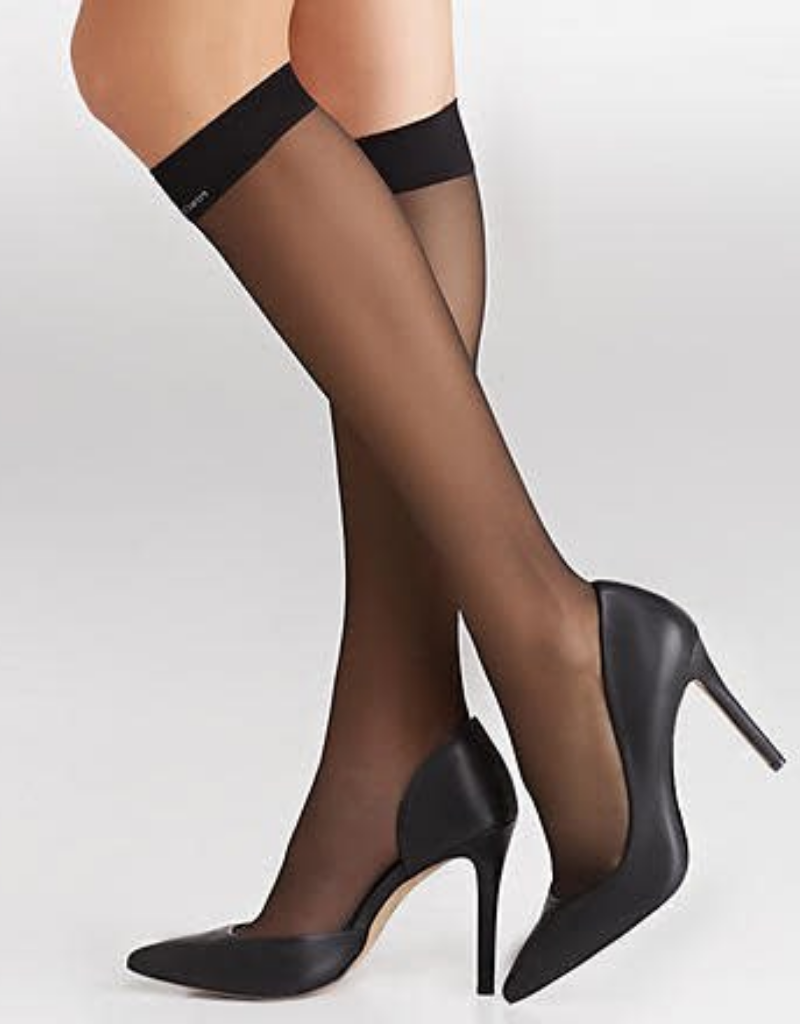 Bodycon dresses, translucent knee-high socks, and black heels are the approach for achieving a highly elegant appearance, such as for a party. Nothing looks more classy and seductive than like a set of sheer socks. The best type of footwear to pair with dresses are black heels. They give any ensemble a touch of glitz.
Vacation combination with sneakers and solid colored socks


Everyone is aware that choosing the right hotel can make or break your trip. You need to plan your resort wardrobe because you spend the most of your time there. Clothing that may be worn at restaurants, in the gym, by the pool, and more Bright, lively, and put combined is the name of the game for resort attire.
Combine a blue bikini with something like a set of jean shorts for something like a daring style. Include a pair of knee-high blue socks and some sneakers. The socks will go perfectly with the bikini and produce a gorgeous appearance. This costume is perfect for lounging by the pool or perhaps going ice skating.
Comfortable combination of printed socks with slippers

Looking for a laid-back attire with knee-high socks for a relaxing day at home with your friends? We have your back. Even when you're at home, you can still get dressed up. Wear a pair of satin shorts with a grey oversized hoodie. Include your zaniest pair of socks and wear some adorable fluffy slippers with it. The entire adorable ensemble, complete with long socks, is ideal for a sleepover. This is also a great attire to lounge in if gatherings are really not your style.
Final word
The ideal method to decide whether the entire sportswear style is suitable for you is to dress casually with knee-high socks. It's not only simple to set together; it also provides a stylish method of wearing socks. Both knee-high socks and knee-length shorts look excellent with dresses.
Who would have imagined that a basic pair of socks could make a fantastic ensemble.
We trust that this styling advice will help you wear knee high socks perfectly.