It might be difficult to always look polished and professional, especially for women. Many fashionable clothing aren't all that comfortable. However, the footwear—specifically heels, pumps, and other raised shoes—is where the actual discomfort begins and ends.
The ideal answer to this issue and a replacement for raised footwear are loafers. They are excellent additions to your closet for preppy and sophisticated casual looks as well.
Why Are Loafers So Unique and special?
Loafers are valued for their ability to combine comfort, style, and sophistication. You might believe, for instance, that ballet flats are a suitable substitute for loafers, at least for something like the workplace.
Ballet flats have a problem in that, when worn with simple office dress, they can very easily become boring. Conversely, loafers effortlessly meet your professional obligations, give you a sense of empowerment, and exude a fashionable air that is difficult to match with anything else.
With regard to comfort, many loafers rival sneakers thanks to sufficient cushioning, a covered construction, and a comparatively flat sole. Also, putting on or taking off loafers simply takes a few seconds.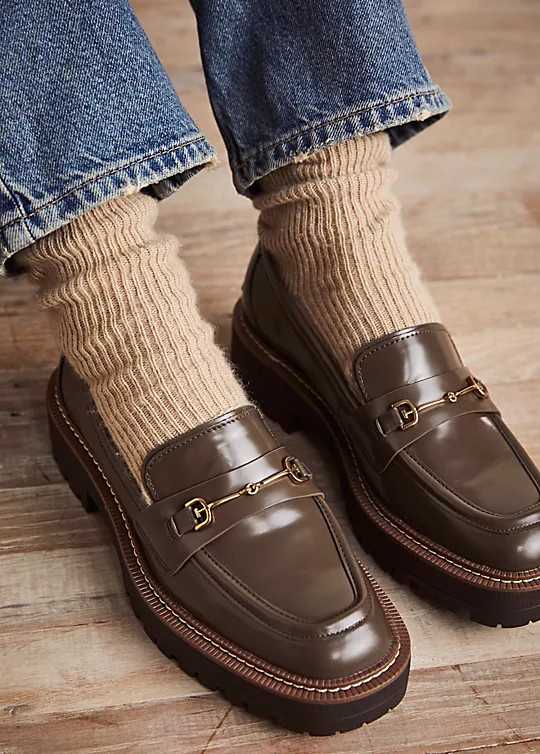 How Should I Wear Loafers?
Understanding a handful of the best ensembles and using their ideas for your own crafts is not enough to style loafers. You can accomplish this, but it won't even scrape the top of what loafers are capable of.
It may be clear from one of these outfit examples that loafers go well with flared jeans, which is true. But they also look great with dresses, skirts, slim jeans, and dress pants.
The main lesson to take away from loafer style is that it cannot function effectively without a plan. Loafers demand more preparation than a pair of white low-top sneakers, which you may wear with practically any casual ensemble.
This might be as basic as matching the loafers to the color of your shirt or as complex as creating an entirely new attire from scratch and incorporating pieces like velvet pants. Whatever you choose to do, the outcome will be worthwhile.
Professional Outfits with Loafers
Whenever it comes to business-related professional contexts, loafers are seriously underappreciated. They are a huge improvement over ballet flats and the ideal substitute for conventional heels. It is possible to group professional loafer options according to their hue.
White

Your final choice is a pair of white loafers that look sharp. The only drawback of white loafers is that they need extra maintenance. Therefore, white loafers are a high-risk, high-reward kind of footwear that not everyone should wear.
Black
You won't ever feel uneasy in the office again if you just wear a pair of black leather loafers. With no problems or drawbacks, you can wear this basic pair underneath black pencil skirts, dark dress pants, or even flared pants. These are also essential for everyday black attire outside of the workplace.
Brown
Look at brown suede loafers if you wear colors besides from black and white to work. They are notorious at taking on blue, light blue, and pink objects. Additionally, they can be dressed up even more colorfully on casual Fridays.
Casual Outfits with Loafers
Loafers are frequently worn with casual attire, and their popularity is growing. Having said that, this group is larger than you might imagine. Here are some of the most effective methods to wear loafers with casual attire.
Elevated Casual

It's simply untrue that loafers are perceived as being dated and stagnant by many women. Loafers can be worn in random and inventive ways just like fancy sneakers and high heels.
Start with a simple outfit consisting of a white and red striped hoodie, a pair of black loafers, and a pair of straight-leg black trousers. Increase the intensity by pairing a black maxi dress with a biker jacket made of brown leather and a pair of shoes made of a similar shade of brown leather.
The ensemble that shifts everything into high gear features checkered brown and white pants as the focal point. A light brown button-up is worn with these pants, and a black crew neck sweater is worn on top of that. This unusual pairing is completed by a pair of black suede loafers.
Adorable Casual
When thinking of appealing casual ensembles, knee-high winter boots and fur-covered ugg boots come to mind. The only drawback to these is that they can be only useful during the winter months.
Summer, what about it? What can you wear since striped summer sandals don't seem particularly cute? The solution is a pair of adorable, vibrant, and fashionable loafers.
You don't have to limit yourself to wearing black and brown leather loafers with this look. Explore the wonderful world of garment loafers instead. You can discover something that suit your taste among the hundreds, if not thousands, of distinct color combinations and patterns they come in.
You can make a decision based on the types of clothes you have in your wardrobe. Pink or white velvet loafers, for instance, look regal with cute, girly attire.
Additionally, velvet loafers are the ideal shoes for ensembles that adhere to the arm warmer trend.
Effortless Casual

Loafers and the world's laziest fashionistas go together like bread and butter. They go well in hand with women's fashion features that need little effort, including preppy style. You only need a pair of tight-fitting cropped jeans in either black or blue, along with a pair of black velvet loafers, to get started.
Now, you could fill this template with a huge variety of tops and shirts, and practically all of the ensembles that resulted would look wonderful.
A comparable look for winter comprises warm khaki tights, a cream turtleneck, and brown leather loafers. On its alone, this ensemble doesn't look all that creative.
However, once you start layering it with bulky layers like pea coats, leather dusters, and trench coats, you can easily create one of the most imaginative winter looks. You may also test out this concept with a black, grey, and white gradient.
Frequently asked questions
How should loafers be styled?
Making an effort is the key to wearing loafers with flair. It doesn't require much of your time either. Find a single piece of clothing in the ensemble that can either contrast with or accent the loafers. For instance, wearing black suede loafers with blue jeans and a white hoodie is a very typical combination. You can finish it off with a tidy bow by adding a black knit scarf on top.
A formal shoe, loafers?
Loafers are not entirely formal, though. They serve as a transition between official and informal settings.
What is the purpose of loafer shoes?
Loafer footwear serves as a well-balanced compromise between the formal and informal worlds. With the correct casual clothing, you may rock the same pair of brown loafers to a late-night party after wearing them to work.
The comfort level of loafers?
Each pair of loafers has a different level of comfort. Despite this, well-made loafers are all remarkably comfortable because to their ample cushioning, proper tension and comfort on all sides, and generally flat soles.
What material makes up loafers?
Loafers come in a variety of materials, including aniline leather, suede, fabric, denim, velvet, and others.
In conclusion
Being on the hunt for that amazing and fabulous footwear just feels like never ending for the ladies. There are different types of factors to be consider while choosing a perfect footwear like comfort, practicality, style, versatility, and many more. If we are looking for that perfect piece of footwear, then there are no such footwear in this world, but we surely have something which comes close, like loafers. Learning how to properly dress loafers can not only expand your wardrobe but also provide you access to thousands of interesting new fashion alternatives.