Corduroy is a type of fabric is seen a bit frequently in the fashion industry. Corduroy is a fabric which is mostly seen during the colder months, in forms like pants, jackets, shoes, etc.  apart from this you can also find some bucket hats made from corduroy. You might feel it is a bit on the old side and is difficult to pair but we must agree it is one of the most stylish pieces of fabric you can ever have.
What is Corduroy?

This fabric comes with a unique pattern which can go well during the winters and autumn as well. The word corduroy means a woollen cloth, especially during the 18th century.
Why are corduroy famous?
Corduroy comes with some great features like comfort, warmth and durability which makes it more suitable for winter season. These features are another reason why corduroy are popular during the winter season.
there might be different questions in your brain regarding this fabric and one of them might be, "is it warmer than denim?" and the answer to this is both because they are made from cotton.
Best Colors for corduroy

In terms of colors it completely depends on you and what you are looking for. There are different color options like bright colors, earthy shades, dark colors, etc. you can choose any color of your choice which goes well with your personality and looks great as per the attire. When we talk about colors in corduroy there is no rule. There are some colors which are popular like brown, olive green, navy blue, black, etc. there are some loud colors as well like red, green, maroon, etc.
Corduroy blazer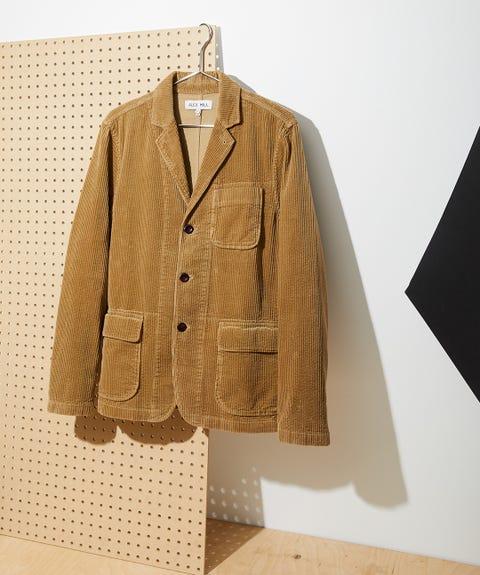 A corduroy blazer does come with some good amount of class and you can wear them in different ways from casual to formal. Here are some styles which you can find beneficial with corduroy blazer:
Business Formal
If you are going on a meeting, then wearing your black corduroy blazer along with a dress shirt and grey-colored pants along with some black colored dress shoes. Apart from this you also have an option of dark brown corduroy blazer which you can pair with a light blue colored shirt and in bottoms opt for an olive-green pants. If you feel something is missing, then you can add a tie.
Semi-formal
These occasions are great because here you just must be presentable. For any semi formal occasion, you can start things off by pairing a brown corduroy blazer with a grey turtleneck and in bottoms add some chinos and loafers. If you want to take things a step further, then add some accessories like a belt or a watch.
Casual

If you are planning to go out with your friends, then you can just grab a crew neck tee and layer it with a corduroy blazer and add a denim jean along with sneakers.
Pro tip
Avoid matching your top with your blazer in terms of colors because it will just merge everything on the top section.
Corduroy Trousers
For winters there is nothing better than a corduroy trousers because of the comfort and warmth it can provide which does makes it a must have for any winter wardrobe.
Business Formal
When you are planning a formal attire try to keep things on the neutral side and maintain a good amount of distance from different patterns, designs and colors as well. When you making a formal attire always remember it should not have more than 3 different colors. You can opt for a double-breasted blazer to add some extra spice.
Semi-formal
For such occasions you can add a plaided shirt along with your trousers and to add some extra style you can go for ankle boots or even a leather vest will look fine.
Casual
When it comes to causals there is nothing better than a hoodie during the winter season along with your warm corduroy trousers.
Corduroy Overshirt

There might be people who are not completely sure about a corduroy overshirt, but they do go well with formal and semi-formal occasions. There are different tips which you can follow to get a great looking attire. 
Business Formal
When you are choosing a corduroy overshirt you should try your best to keep the color of your shirt on the pale side. You can have a classic combination of black and white. In any smart casual event you can pair your overshirt with a turtleneck and pair it with a dark colored pants to have that business look.
Semi-formal
An all-black look never goes out style and you can try it here as well by pairing some black corduroy shirt with pants and shoes of similar colors. You can add some accessories as well like a ring or a watch.
Casual
Causal might be the easiest because you just need a classic white tee and layer it with your overshirt and keep the buttons open.