Having shrugs in your outfit is a great way to enhance the overall style of the outfit. Having a shrug in your wardrobe will help in adding that extra style to your outfit without messing with your comfort. Today we will be looking at different ways you can style your shrugs. Shrug is just another outerwear which helps in keeping you warm during spring season. Shrugs will keep your arms covered while keeping the front side which helps in keeping you comfortable.
Meaning of shrug

To define shrugs, it basically means any cardigan which is light in weight but has cropped to make sure that it covers your back, shoulders and arms. The fitting is more on the singed side but is unstructured. Shrugs are great when it comes to versatility which allows you to pair them with different outfits. You can pair your shrugs with different attires and styles ranging from camisoles to blouses. The very first thing that you can do to style your shrugs is opt for matching style or if you are looking to have a more appealing outfit go with contrasting styles.
You can find shrugs in different lengths as well ranging from long to short and the same can be said for the sleeves as well. A great thing about shrugs is that the just work perfectly with any casual style and sometimes in semi-formal looks as well. Therefore, you can add shrugs to different casual styles ranging from Rockstar to street style.
Different Types of Shrug Sweaters

We can find different types of shrug styles which are made from different materials and have different sleeve lengths, lengths, design, fittings, etc. There are shrugs available for winter seasons as well which are made from fabrics like wool and cashmere. Apart from this there are shrugs made from other fabrics as well like cotton and mesh which are light in weight and more breathable to suit hotter seasons like summer.
In terms of color for the winter season you should go with something dark like black or navy blue, whereas for summer season you can go with white, and some florals prints too. Another shrug which you can get this winter pullover sweater that comes with an open front which is similar to the shrugs.
Here are different types of shrugs styles that you can try to have some amazing outfits:
Shrugs for Dresses  

It is not a doubt that shrugs come with great level of versatility which allows you to wear them with different styles. You can start things off with different types of dresses like a long maxi dress, short dress, cocktail dress, and many more. You can make an outfit by pairing your printed dresses along with some colored shrugs and for plain dresses you can go for shrugs which are available in different patterns. There are different types of prints which you can try going with like a checked dress along with your shrug in paisley cotton.
Outfit Ideas:
We can start things off with some midi dress which comes with floral prints and layer it with your black colored shrug. This is an easy outfit to pull off which works well during the spring season. You can also use this combination to achieve an all-black outfit. Complete your attire by adding some kitten heels and some minimal jewellery.
Another combination which you can try is pairing a white mesh shrug with a blue colored pencil dress. This combination is great for any daytime activities.
Long Shrugs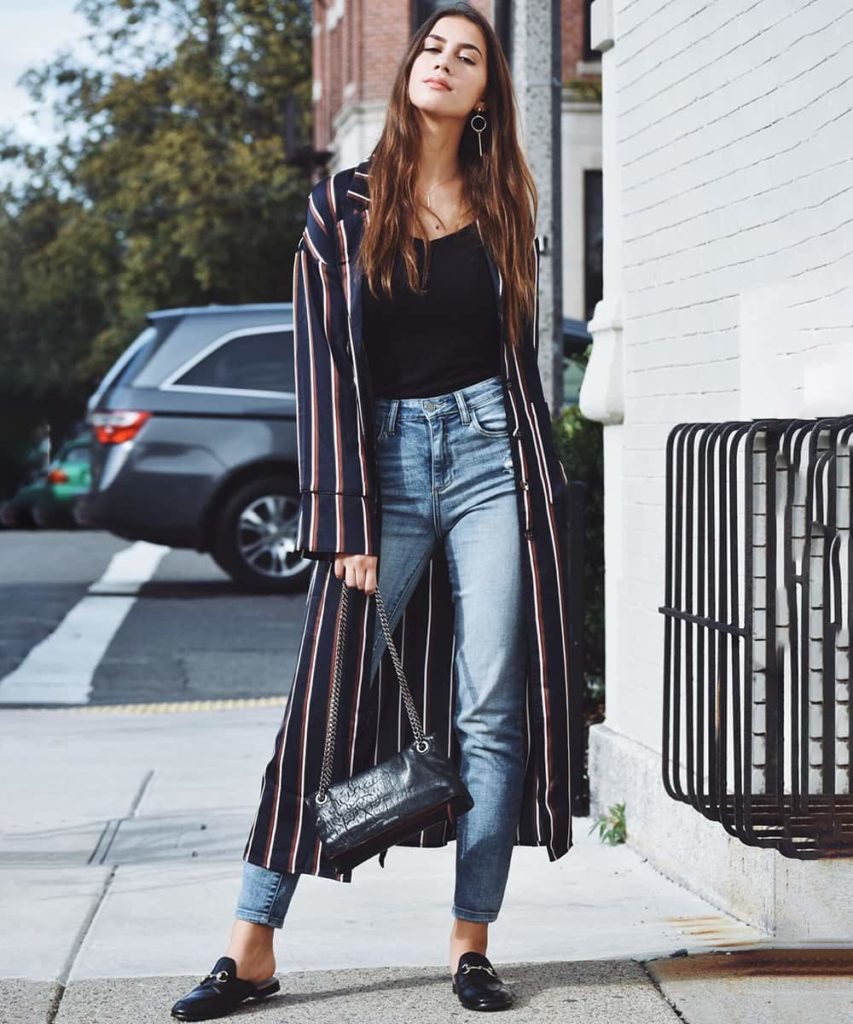 As the name suggests these are shrugs which comes with a longer length and are usually used for layering different outfits. You can also use long shrugs to get a pleasing figure. We can find different types of lengths in long shrugs as well which can range from right bellow your hips to ankles. Apart from this you also have the option to choose the fabric and style depending on the occasion you are planning to wear.
If you are someone who has a curvy figure, then going with a long shrug would be a great addition to your wardrobe. In case you are looking for a fitted dress, then going with a long shrug will help in covering your body and avoiding any unwanted skin show.
Outfit Ideas:
If you are going to a wedding reception, then going with a satin jumpsuit will be a great idea and you can layer them with a sequined shrug. Finish off the overall look with the help of silver heels and minimal jewellery.
Apart from this you can also go with some white camisole for a simple appearance and pair them with some boyfriend jeans. Layer all of this with a leopard print shrug and you are good to go.