STREET FASHION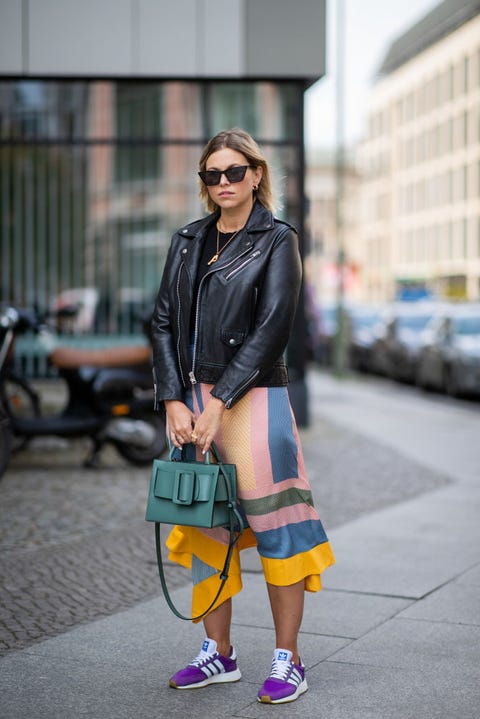 When you want to style yourself with leather jacket the first style which will come to your mind is street style. For street style you should wear a black leather jacket with an odd color shirt and amazing denim jeans. You should choose a style which is not traditional and cool.
FASHION INPIRED BY CELEBRITIES

Celebrities create their own styles. They have their own unique and charming taste in fashion apparels. If you want to follow their styles of fashion you can take inspirations from them. You can also innovate their styles according to your own needs.  Black leather jacket styles is something which you can take some ideas from celebs. You can just pair your leather jacket with some basic and simple apparels it is simple yet fashionable.
THE BOHEMIAN LOOK

If you are feeling bore while wearing simple clothes and you want to make them fashionable then you can allow a black leather jacket to emphasize your style. It will give you a fresh look of boho. The bohemian dress code is friendly and comfortable. If you're seriously into boho style and thing leather jackets doesn't comes under boho style then you should think again. You can add some boho touch to your black leather jacket with some traditional add-ons that does helps in adding some fresh air to your leather jacket styles. If you're someone who has tried a lot of leather styles then you should go with some new and unique styles.
CLASSY LOOK OF LEATHER JACKET

There is a reason why black is the most favourite and loved color when we are talking about leather jacket. The black colored leather jacket goes well with almost every color, pattern and style. If you have the cool style then you can add your leather jacket with some denims. you can have all the other cool features like frills and amazing hair style. You can also add a band shirt and layer it with your amazing black leather jacket and in lowers add your favourite jeans or pants.
 FANCY STYLE

If you want to wear black leather jacket in a different style than fancy looks are waiting for you. It does improves the overall look and vibe of your attire. It is not best styling option but is very rare to see people in this type of clothing. You can add your leather jacket to dress which have that neutral shades and it will add that rich look to your attire and no one will see it as an eye sore. With black leather jacket suede shoes or black loafers will look good. There are other kinds of leather garments too other than leather jacket like pants and boots which do well with your outfit.
There are some people who find it difficult choosing what to wear with leather jacket in this case you should try searching it online or various fashion magazines. You can also repeat your favourite style by of clothing by changing color of outfit. You can always explore other style of clothing or combination of clothing.
Leather jackets are versatile and can go well with almost anything. You can wear a black leather jacket on work, party or casual events.