Suits are in this fashion industry for a very long time while some modern styled suits were first seen in the late 18th century and after that, they have never left the formal section of men's wear. Whenever you're trying to make a formal section in your wardrobe you just cannot overlook suits but remember that not all suits are similar. A large number of suits are similar like made from similar fabric like cotton and linen which there are many suits which are made from some unique fabrics like leather. This might surprise you as whenever you think of suits the traditional fabric comes to your mind but leather also has features that can work on a formal occasion.
If you're going with a leather suit then you will get features like comfort, durability and style, and many other features of leather.
So, What Is a Leather Suit?
Leather suits will come in both 2 and 3 piece formal suits. The 2-piece suit will have everything a traditional suit will have like a jacket and trousers san the same is for the 3-piece suit which will come with a waist-coat.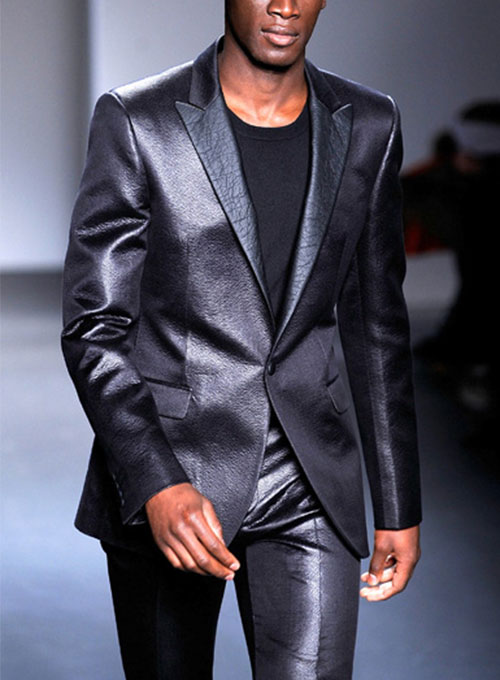 No matter what you're going with suits are made from different fabrics. Then the most common fabric is cotton which is very popular because it is cheaper and soft in texture. Linen comes second and has features like it is lightweight and breathable which is great if you're going to wear suits in summer. You will also find suits made with fabrics like wool and tweed.
No matter what the fabric used is as they all will have the same appearance. If you're wearing a leather suit you will feel really different and in a good way because you will rarely see someone wearing a suit made out of leather which will help you in standing out of the crowd.
Advantages of Wearing a Leather Suit
If you have never worn a leather suit then you must be thinking about the advantages it has and why you should choose and why is it better than the traditional suits made from traditional fabric. There are a lot of benefits of leather suits.
When you wear a leather suit you will feel really unique which is missing from the traditional suits. Leather suits are really comfortable as most of them are made from genuine leather which is known to have a soft texture. No doubt there are other suits which are comfortable but no one is close to leather in terms of leather. Leather suits are comfortable enough to be worn for more than 8 years without any discomfort. Leather suits can also be accessorized easily.
There are some accessories which will work amazingly with your leather suit. You can accessorize with leather belts on your leather suits which will also make your trousers fit correctly on your waist and will also look like a part of your attire as it is made from leather.
There are some other accessorize like tie, watches and pocket square.
Leather Suits vs. Traditional Suits
This article is not trying to say that traditional suits are useless as they are still really bold and more wearable in a workplace whereas leather suits are not suitable for the workplace. Before you choose a leather suit over traditional suit make sure that you're going through the company's dress code as no one likes to be kicked out for not following the dress code.
. If you're planning to wear it to work, check your company's dress code to see what the requirements are. Some companies require their employees to wear specific types of suits, in which case your only option may be a traditional suit. For any other place, leather suits will work amazingly as they are really stylish, attractive and can be worn for a long time.
As they are made from leather it is easier to maintain than a traditional suit. Be sure that you're keeping your leather suit away from that washing machine as they are not made to for that and don't even need that as they repel stains which is why you don't have to clean then every now and then. You can wear leather suits for many days without cleaning them.
 If you see any stain or blemish on your leather suit then you can do some spot cleaning with a damp cloth and liquid soap. You can start wearing your leather suit after it is dry.
Choosing a Leather Suit
If you want to get all the advantages of a leather suit then the first step you should follow is to choose the correct one. For beginners you should look for the type of leather is used for our suit. There are a lot of people who think that leather is the same in all leather suits which is not true at some point as there are some types is leather as well.
The best leather for your suit is Napa leather because it is very high-quality leather with a super fine grain which is great for leather suits. There are a lot of luxurious items that are made from napa leather.
The color of your leather suit should be the correct one. Brown is color which can be paired easily and is also seen a lot in leather suits. There are a lot of colors leather is available if you are a brown color person. You can choose colors like black, red, blue or even yellow if you like. Whatever suit you're choosing it should fit you and your personality perfectly.