There are many methods to style the full leather trend for women, which has been ruling the fashion world. Doing so will give you a chic and fashionable image. To help you rock the entire leather trend, here are some pointers: 
When it comes to styling the full leather trend for women, there are a few key tips to keep in mind. Firstly, experiment with different textures to add depth and interest to your outfit. Mixing and matching patent, matte, and suede leather pieces can create a striking contrast. Secondly, consider adding contrasting colors to break up the monotony of an all-leather outfit. Pairing black leather with white silk or brown leather with cream-colored sweaters can add a touch of sophistication. 
Layering non-leather items can help tone down the overall look of an all-leather outfit. A cotton t-shirt or a denim jacket can add a relaxed vibe and create a more balanced outfit. Lastly, consider the occasion when styling a full leather look. A leather skirt with a graphic t-shirt and sneakers is perfect for a casual day out, while a leather dress with heels and statement jewelry is ideal for a dressier occasion. 
To fully style the leather trend, it's crucial not to forget about accessories. They can add a personal touch and elevate the outfit to the next level. Statement pieces such as chunky jewelry, colorful scarves, and bold shoes can be a perfect match for the edgy leather look. Another useful technique is playing with proportions. By balancing fitted and oversized leather pieces, you can create a more harmonious and well-put-together outfit.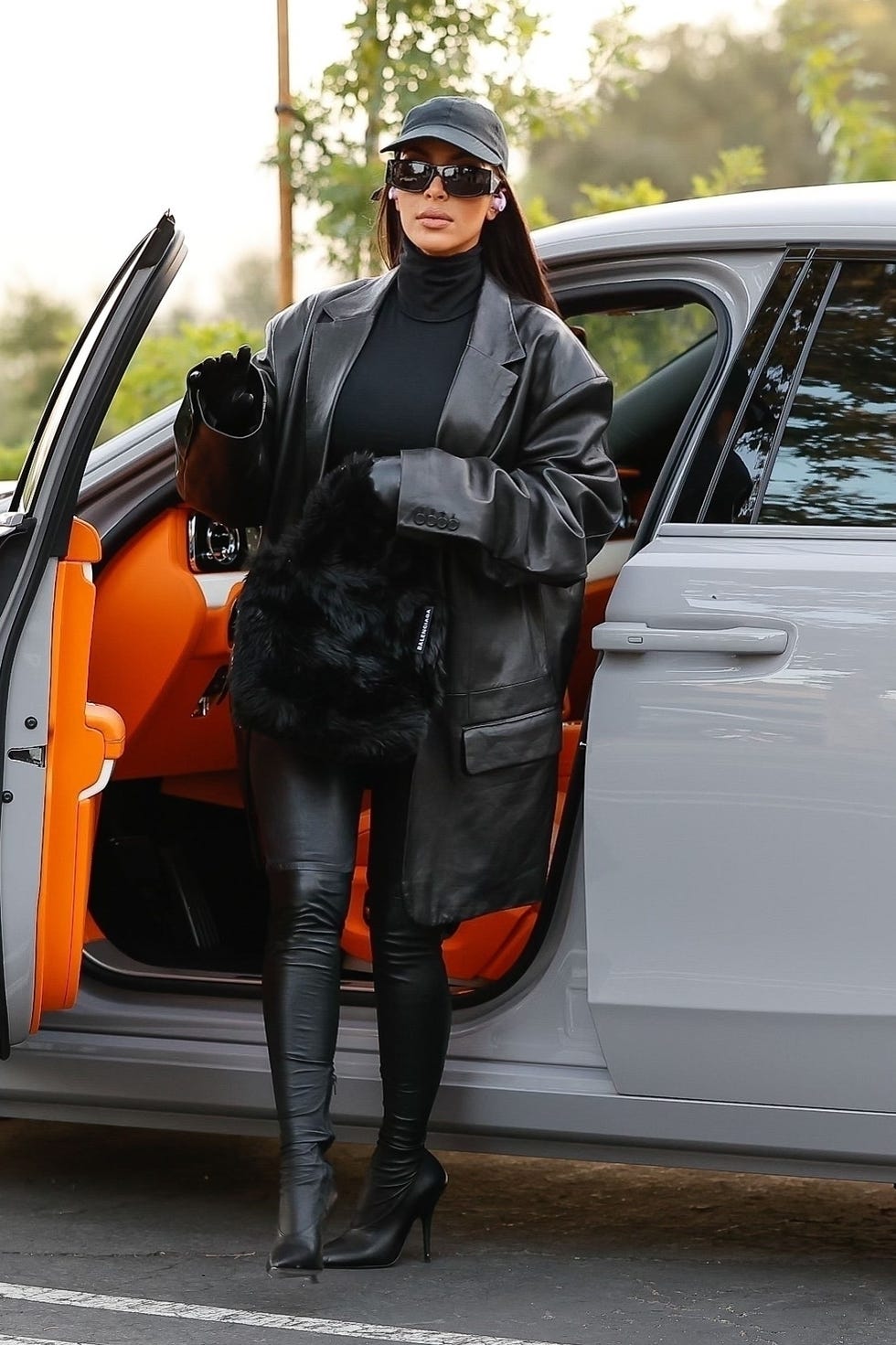 Hey, have you seen what the celebs are wearing lately? Leather is all the rage! Kim Kardashian rocked some Balenciaga leather, Julia Fox was showing off her abs in some sexy separates, and even Rihanna was spotted in a bomber jacket. Hailey Bieber is also killing it in some killer trench coats. It seems like everyone watched The Matrix Resurrections during the holidays and now they're all channeling their inner Neo and Trinity with some seriously cool leather looks for 2022. 
In January, Rihanna confidently sported a full-look leather ensemble, joining the ranks of other bold fashion trailblazers such as Kim Kardashian, Julia Fox, and Hailey Bieber. It requires a certain level of fearlessness and confidence to pull off a head-to-toe leather outfit, which is typically associated with dominatrixes, motorcyclists, and the emo or goth subcultures. Nevertheless, these women demonstrate a daring attitude towards their style choices, setting an example of how to push boundaries and take risks in the fashion industry. 
You don't often see regular folks walking around London in full leather getups for no reason, so it looks like the leather trend is inspiring people in their own way. According to Lyst, searches for leather are up a whopping 43% compared to last year! People are really getting into long leather coats (up 39%) and leather platform boots (up 71%). It seems like leather is becoming the new "it" thing for fashionistas everywhere! 
Customers nowadays seek fashion items that not only possess timeless elegance but also boast versatility in terms of styling and longevity. According to Tiffany Hsu, the vice president of womenswear and kidswear fashion buying at Mytheresa, leather pieces meet those criteria as they could be worn season after season provided that they possess the perfect shape. Similarly, Heather Gramston, head of womenswear buying at Browns, shares the view that leather items serve as a wise investment that can stand the test of time, eventually becoming a second skin that reflects the wearer's character and story. 
Kim K. undoubtedly loves leather because she wears it all the time! According to Tiffany Hsu, vice president of fashion procurement at Mytheresa, the leather trend is being driven by brands like Bottega Veneta and Magda Butrym, which Hailey Bieber has been spotted wearing. Tiffany is particularly fond of their leather suits and coats since they have a timeless, edgy Matrix vibe. 
Heather Gramston, head of womenswear procurement at Browns, explains that the current leather craze is being fueled by the sensual emotions of spring/summer 2022. As people emerge from their homes after a prolonged period of comfort dressing, they are embracing a full spectrum of seduction and high-octane glamour. This has led to leather making a strong comeback this season, as she told Vogue. 
Heather is eyeing several pieces, including Prada's distressed leather biker jacket, Simone Rocha's sculpted leather midi dress, and Khaite's leather bustier and maxi skirt look, all of which she plans to wear year-round. In the past, we have typically associated leather with autumn/winter fashion, but this time around, it was prominently featured on almost every runway, suggesting that the traditional seasonal boundaries are becoming more fluid.  
HAILEY BIEBER
Since the beginning of the year, she has worn a lot of leather trench coats. Nostalgia has played a significant role. We all adore the 90s comeback, and this leather style, according to Heather, pays homage to the era's streamlined, edgy simplicity, which was popularized by designers like Helmut Lang and Prada.  According to Libby Page, senior market editor at Net-a-Porter, there is a growing demand for statement leather clothing and other motorcycle glam accessories, especially biker jackets. For SS22, numerous designers, including Alexander McQueen, Supriya Lele, Simone Rocha, Balenciaga, Prada, and Miu Miu, updated Kate Moss's famous '90s staple. According to Lyst, interest has increased by 57%. 
SIMONE ROCHA SPRING/SUMMER 2022
Leather blazers are currently among the top-selling fashion items, with pieces from Alexander McQueen, Blazé Milano, Petar Petrov, 16Arlington, and Raey's in-house brand flying off the shelves. Meanwhile, faux leather offerings from Frankie Shop and Stand Studio have been leading the charge. According to Liane Wiggins, the head of womenswear at the retailer. For our customers, these leather jackets are an updated version of the wool or cashmere blazers they've been wearing for the past few years, and they look fantastic when paired with wide-leg denim, which is another big trend at the moment. 
In addition, there has been a rise in the popularity of A-line leather skirts. Gabriela Hearst and Chloé offer luxurious options, while Sea and Totême provide excellent faux-leather choices. At the shows, these skirts were styled with fitted knit bodysuits and sweaters, which is something we really appreciated. 
Leather pants are a must-have. She calls out Nanushka's Vinni vegan leather straight-leg pants, which she claims can be worn in cooler weather with boots and a roll-neck or in warmer weather with clunky sandals and a white T-shirt. 
LEATHER DRESS
The leather dress is definitely one of the most fashionable and chic leather outfits showcased by top designers this season. With shades ranging from beige to camel, these gorgeous dresses in various silhouettes exude contemporary sophistication, featuring design details such as voluminous sleeves, pleated pleats, and defined waists. Pair them with ankle boots or flat loafers for a fashion-forward look. 
For an evening out, opt for an elegant version of the leather dress. To exude sensuality, consider a knee-length or long dress with a strapless or one-shoulder design and long sleeves, all in dark tones that capture a more daring vibe. Accessorize with stylish heels or high boots and don't forget to add some jewelry for an extra touch of elegance.  
LEATHER BOOTS
The colder months are undeniably the best time to break out your favorite pair of boots. With so many trends to choose from, it can be overwhelming, so it's best to stick to versatile options. Classic black leather knee boots and patent leather boots that resemble rain boots are great choices, but we also suggest stepping outside of the box with animal print patterns in bold colors. These boots can be paired with a mini dress and tights or long socks, and they look equally chic with tight leggings or pants. 
LEATHER BAG
Leather bags are totally in this season and you can't go wrong with a retro-style bag with metal handles or a small messenger bag that's super practical. These bags are timeless and can be worn year-round, making them a must-have item in every woman's wardrobe.  
When it comes to fashion, bags are a big deal because they're not only functional but also add to your overall look. Animal print bags, like leopard and cheetah, are always a good choice and are super trendy this season, as seen in the collections of Louis Vuitton and Dior.   
LEATHER SKIRTS
If one desires to add a chic and daring element to their wardrobe, a leather skirt is a must-have item. This season, prominent fashion designers such as Hermès and Gabriela Hearst presented the most exquisite leather skirts on the runway, ranging from pencil skirts to A-line skirts adorned with stunning pleats. However, to achieve a more flattering silhouette, it is recommended to select a high-waisted leather skirt combined with a feminine blouse, resulting in an elegant yet fashionable appearance. One may also opt for a flowy blouse crafted from lighter fabric for a more relaxed feel, but it is crucial to cinch the waist with a belt or blazer to achieve a polished finish.  
The leather skirt is regarded as one of the most crucial pieces in any wardrobe by fashion experts worldwide due to its versatility and ease of pairing with various items. One may pair it with a sweater or fitted t-shirt for a more casual look, or a silk blouse and pumps for a more formal event. The possibilities are endless, and with the appropriate styling, a leather skirt can make a statement and elevate any outfit. 
IN CONCLUSION 
To achieve a polished and impeccable appearance while styling the full leather trend for women, it is imperative to explore and experiment with different leather textures, blending and contrasting them creatively. By combining patent leather with a matte or suede leather, for instance, one can add depth and intrigue to the overall outfit. In addition, adding a pop of contrasting color or accessorizing with statement pieces can help achieve a more personalized and unique look. Paying attention to proportions and balancing fitted and oversized leather pieces is also crucial to creating a harmonious and coherent look. Layering non-leather items such as cotton t-shirts or denim jackets can help avoid an overwhelming look while adding a relaxed touch to the outfit. Lastly, taking into account the occasion and pairing leather pieces with appropriate casual or dressy items is essential. By keeping these tips in mind, one can effortlessly exude confidence and style when donning the full leather trend.