Plaid coats are mostly worn in winters. It is comfortable and warm enough to wear in winters. Plaid jackets can be both functional and sophisticated. Plaid jackets are good for classic styles which you want to try this season. If you are thinking about adding a new piece of garment in your winter collection then how about you add plaid coats to your collection. Plaid coats can be both casual and dressy according to your choice.
Plaid coats are nice piece of garment which suit everybody regardless of their body shape and skin tone. They are quite adaptive in nature hence you look good in it even if you are wearing simple pairs. Earlier, plaid was very popular but it was not in trend for quite some time. Fortunately, since past few years plaid jackets once again are on trend list.
Plaid jackets are often associated with preppy and punk styles its popularity eras. But these days plaid jackets are styles in more variety of styles. Apart from punk and preppy styles you will get to see minimalist, maximalist, cute, feminine and trendy styles with plaid jacket these days.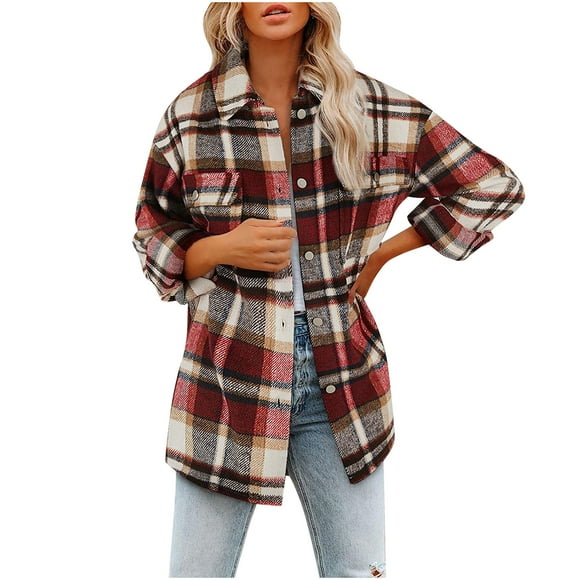 As plaid jacket is made from wool, it is understandable that it trends mainly in falls or winter season. However, you can find plaid jackets available of multiple materials. In this way, you can wear different types of plaid for different season as per your choice. You can also wear plaid jackets in summers if it is lightweight, thin and breathable.
Plaids are a casual garment which you can wear both for days and night.  If you are getting interested in having plaid jacket, but you are not sure what to pair with then don't need to worry. We have solution for you.
Plaid jackets with graphic tee:
To make casual attire trendy and comfy, you can add graphic tee in it. In an amazing attire of graphic tee and jeans, a plaid jacket would be a good addition. Go with a different color of plaid jacket than graphic tee so that both the items will be highlighted differently.
Plaid jacket with skirt:

Plaid jacket would look awesome with mini skirt or midi skirt. It's a simple and good outfit to wear on day outs, lunch dates or evening walks. To complete the outfit, you can add appropriate blouse, top or tee and don't forget to get some stylish footwear at the end. If you want, you can also add a pair of tights in your outfit.
Plaid jacket with tights:

It is dressy attire; means in this you can pair your plaid jacket with cute dress and tights. If you want, you can replace the tights with knee high boots. This attire will be helpful in an occasion where you need to look dressy. This attire is not only stylish but also warm.
Plaid jacket with the combination of shirt and jeans:
It may sound simple but this attire is very stylish and versatile to be worn on several occasions such as date, evening out or any other such tasks. You can use your creativity to figure out what kind of jeans would look good with what kind of shirt so that their combination will look good with your favorite plaid jacket.
Street style plaid jacket attire:

To make a statement street wear attire using your plaid jacket you can try to have a long plaid coat which has inbuilt belt feature in it. You can add a combination of stylish blouse and skinny jeans with long plaid coat. For example, you can wear dark brown long plaid coat with cream oversized tee and dark washed jeans. In footwear go with dark brown ankle boots.
Plaid jacket and leather pants:
What about having an edgy look? You should try out making a pair of plaid jacket with leather pants. This attire is not only unique but also attractive. You can add cool graphic tee or plain white or colored t-shirt to complete this look. You can certainly go with this outfit for day outs. Pair it with scarf and you favorite pair of footwear 
Plaid jacket with sweater dress:
For a cool and chilly day, you can pair your sweater dress with plaid jacket. To make this outfit look even cuter you can add a cross body bag and knee high boots. This outfit will help you to look chic and cute simultaneously.
Athletic plaid jacket attire:
If you want to use plaid jackets for athleisure wear then you can pair it with joggers and hoodie. If you aim is comfort and you also want to show off an athletic side of you then you can go with this attire. This is casual attire you can wear just for running sum errands, grocery shopping or hanging out with friends.
Plaid jacket with trousers:
Till now we have discussed about casual attires made using plaid jackets, but how about we try out making formal or semi-formal attire with plaid jackets? It is fun office attire you can try out regardless of the weather outside. For a sophisticated look, you can pair your plaid jacket with nice blouse and office trousers.
Basic plaid jacket attire:
For plain basic attire, you can wear plaid jacket with jeans and plain white tee. This attire is simple and classic. However, if you want to elevate this attire you can add fancy tee instead of plain white tee and you can also try to add stylish boots with this look. For edgier look, you can replace the tee with tank top and jeans with leather trousers.
Conclusion:
All the above listed outfits are quite trendy and don't take too much time and effort to style. You can also style your own attire by taking inspirations from it. Plaid jackets are versatile and easy to style. I hope that this article helped you in any way.