If you are planning to attend any event or special occasion, then you must have been thinking about what to wear and every time it comes down to casuals and formal and choosing any one of them is the most difficult thing to do. Whenever you are choosing any outfit there are two things you should always consider, comfort and style which will help in getting that optimum balance in your attire. having that perfect balance in your attire might sound a little challenging but it does matter because you need this no matter where you are going.

Here is a guide which can help you in dressing as per a smart casual dress code:
WHAT exactly IS THE SMART CASUAL DRESS CODE FOR MEN?
Smart casual stands in between the business attire and cosy lazy stay home attire. In simple words, smart casual is a dress code which is formal along with a little bit of casual. The main aim here is to is to add some comfortable causal outer wear along with formal attires.
There are a lot of variations when it comes to making an outfit in smart casual dress code especially for men. You can either dress down or up any outfit just by adding a few things here and there like a different patterned shirt or just a tie. The key thing to remember here is mix and matching formals with casual elements that are different from the usual items you would wear with your work attire without going too far.
Smart casual dress code is great for men who are just looking for that perfect balance between formals and comfy casuals. With help of smart causal you can get that sharp looking attire without looking out of place. Here you will get that dressed up feel along with the relaxed feel. You can just watch some anime or Netflix in this attire and attend a meeting during the weekdays without making any changes in the attire.
WARDROBE ESSENTIALS FOR SMART CASUAL
These are some of the basic things that you should have in your wardrobe:
Formal and Informal Shirts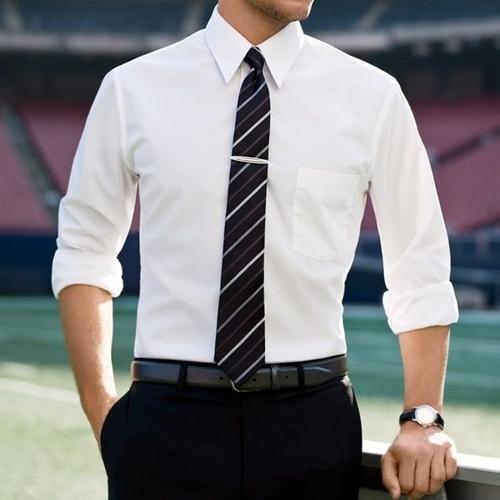 Having a good fitted formal full sleeved formal shirt is a must and the first thing that you should have when making a smart casual wardrobe. You can start with the basic colors like white and then continue adding other colors. You can roll your sleeves to have a hint of casual look. In terms of fabric you have to consider the season before choosing anything, if it is summer then going with linen shirts would be a great idea because it will help in keeping you cool and comfortable during the hotter months.  
Polo shirts are another top option that you should have in your wardrobe. In terms of appearance they can be considered as one of the best for having that dressy yet casual look. You can wear polo shirts with different apparels like a denim jeans. while buttoning your polo shirt make sure you are just doing the third button and not all of them to have avoid looking too formal.
Pants, Jeans and Chinos

You can make any one of these pants looking formal and it is easier than you can imagine. When you are going with smart casuals you have the freedom to experiment with you style.  Whenever you are choosing your pants make sure it goes well with your overall attire. This point sounds like a no brainer but there are a lot of people who tend to forget about it.
When you are choosing any smart casual pants make sure that it fits you perfectly which will avoid any extra fabric just getting crumbled in one area. Having your pants clean is another important factor that you should remember. There should not be any type of dirty edges or stains on your pants.
The Shirt Jacket

                                              BUY THIS LOOK
Shirt jacket is a great combination that gives you comfort along with durability which is similar to a jacket. Shirt jackets can have a similar durability like a leather jacket and will just feel like any other traditional shirt. This apparel is getting a lot of attention and the reasons are pretty obvious as well. You get a unique and fashionable looking apparel which is new in fashion world, and it is worth having them in your wardrobe. Apart from the style it also provides great level of practicality as well. If you are looking to pull a shirt jacket off, you might need to have a sophisticated sense of style. You can try adding a basic tee underneath your shirt jacket which will give you a dapper look.
Leather Jackets

                                                BUY THIS LOOK
There is hardly any apparel in the fashion world which can beat the appearance a leather can give you along with the other practical features it comes with. If you get the measurements right, you can wear it in almost any style because of versatility it comes with. We have seen a lot of celebrities pulling off leather jackets be it in a movie or in real like. Celebs ranging from Tom Cruise to Hugh Jackman, every has had a phenomenal impact with their great leather jacket. This clearly shows how potential leather jackets are when it comes to styling. There are different ways you can style your leather jacket ranging from modern to the classic. It is a no brainer that leather can fit in the smart casual dress code.
Here are different types of leather jackets that you can get your hands on:
Classic Leather Jacket
If you are planning to go classic with the classic leather jacket, then things are pretty simple because you just have to wear a basic white tee underneath it along with any dark washed bottoms.
Bomber Jackets

                                                     BUY THIS LOOK
If you are looking to have something more formal, the bomber jackets should be the first thing you should look for. whenever you are going with bomber jackets make sure you are not overdoing things with different addons like metal snap, extra zippers, etc. because this will just take your attire in an opposite direction which is the last thing you want from your leather jacket. try going for something which is basic and minimal. In the color section you can opt for black bomber jacket which you can just pair with a crisp white tee and dress pants, to finish things off you can just add a black tie and you are good to go.